BBL-B0143 / 1065533
Bblüv
Termö Non-Contact Digital 4-in-1 Thermometer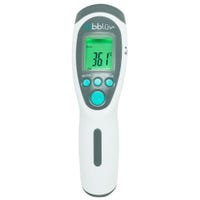 Termö Non-Contact Digital 4-in-1 Thermometer
BBL-B0143
1065533
$54.99
Step 1 - Verify the availability in store of this product Step 2
To ensure the availability of the product, make a 24h reservation in store or directly contact the store.
You will receive an answer by email within 3 business hours.
Thank you !
You will receive an answer by email within 3 business hours.
(After this time, check your junk mail or contact the selected store.)
Continue shopping
Avoid waking up your sick child to track their fever with this precise, instantaneous, and non-contact thermometer. Designed to not only measure temperature on most body parts but also on various surfaces including milk bottles, baby food, bathwater, and even room temperature. Perfect add-on item to your essential care kit for the entire family.
The Termo allows precise, instantaneous and non-contact temperature measurement. It is designed to measure body temperatures such as your child's forehead, ears and armpit and various surfaces such as a bottle of milk, food or bathwater as well as room temperature, etc. It also memorizes up to 32 readings. A tool that is both practical and essential in your care kit.

Features:
-Infrared sensor for surface temperature measurement regardless of ambient room temperature
-Temperature zone alert: normal (green), slight fever (orange) or high fever (red) by colourful backlighting on the LCD
-Reading units in Fahrenheit or Celsius
-Three modes of temperature measurement: surface, body and ambient temperature
-Audible alarm if the temperature exceeds a normal level, silent mode available
-Automatic shutdown after 30 seconds for energy saving
-32-measure memory function
-Comes with 2 AA batteries and a carrying case

The non-contact infrared thermometer is not recommended for use with children under 2 years old

Size : 7 x 2 x 2'' / 17 x 5 x 5 cm
About the brand
Bblüv is a company created by parents, for parents. It designs high quality, safe and essential children's products such as monitors, baby scales, activity mats, diaper bags, play tents and much more. Being onvenient and functional while having a unique design, the items offered appeal to parents but also remain attractive to children. Bblüv offers you thoughtful and well designed products so you can enjoy every moment with your baby.
FREE IN-STORE PICK UP
Free in-store pick up available in all Clement stores for orders over $30. A $5 handling fee applies for orders of less than $30. Orders will be delivered in-store within 3 to 10 business days. Please wait until you received an email notification indicating that your order is available for pick up before going in-store.
Orders will be kept in store for one month. After that delay, the order will be cancelled and refunded.
SHIPPING TO CANADA
Free shipping on orders of $100 or more. For all other orders, a $7 flat rate shipping charge applies. Orders are shipped by Canada Post. A shipping confirmation with tracking number will be provided once your order has shipped.
Standard Shipping*
2-7 business days*
Expedited Shipping*
1-4 business days*
*Standard shipping not available in some areas. If applicable, additional charges may apply.
*Additional charges may apply. Not available in some areas.
*Transit times are subject to change and are not guaranteed.
Please note that some items may be shipped via another carrier.
SHIPPING TO THE UNITED STATES
20$ flat rate shipping on orders shipped to the United States. Orders will be delivered by USPS. A shipping confirmation with a tracking number will be provided once your order has shipped. The recipient is responsible for all import taxes, duties and/or customs fees if applicable.
Exceptions: Furniture cannot be delivered outside of Canada.