LOO-CREMEBED / 1067246
Lolo
Olive Oil Belly And Body Cream 150ml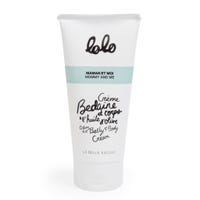 Olive Oil Belly And Body Cream 150ml
LOO-CREMEBED
1067246
$24.95
Step 1 - Verify the availability in store of this product Step 2
To ensure the availability of the product, make a 24h reservation in store or directly contact the store.
You will receive an answer by email within 3 business hours.
Thank you !
You will receive an answer by email within 3 business hours.
(After this time, check your junk mail or contact the selected store.)
Continue shopping
This rich olive-oil based hydrating blend contains cocoa, mango and cupuacu butters. It creates a protective barrier, averting natural moisture loss of the dermis while promoting skin elasticity. Helps prevent stretch marks during and after pregnancy. Firms and plumps up skin, making it soft and supple.

Features:
-Apply to the stomach, breasts, buttocks, hips, tights and other desired areas
-Can be used before and after pregnancy
-Perfect for moms
-All-natural emulsion, food-grade preservative agents
-Can be used during breast-feeding period
-Contains skin-firming hyaluronic acid, a molecule retaining up to 1000 times its weight in water
-Fragrance-free
-No essential oils
-Completely biodegradable
-Last 12 months once opened
-Vegan and not tested on animals
-Hypoallergenic
-Natural


Ingredients : Water, Theobroma Cacao (Cocoa) Seed Butter, Cocos Nucifera (Coconut) Oil, Olea Europaea (Olive) Fruit Oil (and) Hydrogenated Fruit Oil,Mangifera Indica (Mango) Seed Butter, Stearic Acid, Caprylic/Capric Triglyceride, Theobroma Grandiflorum (Cupuacu) Butter, Propanediol, Polyglyceryl-3 Stearate, Sodium Hyaluronate, Tocopherol, Glycerin, Xanthan Gum, Glyceryl Caprylate, Sodium Levulinate, Citrus Grandis (Grapefruit) Seed Extract.
*Gluten free
About the brand
Developed with care in Quebec with La Belle Excuse olive oil, the Lolo range of body products is a guarantee of quality. Entirely natural, these products will moisturize and protect the skin with incredible softness.
FREE IN-STORE PICK UP
Free in-store pick up available in all Clement stores for orders over $30. A $5 handling fee applies for orders of less than $30. Orders will be delivered in-store within 3 to 10 business days. Please wait until you received an email notification indicating that your order is available for pick up before going in-store.
Orders will be kept in store for one month. After that delay, the order will be cancelled and refunded.
SHIPPING TO CANADA
Free shipping on orders of $100 or more. For all other orders, a $7 flat rate shipping charge applies. Orders are shipped by Canada Post. A shipping confirmation with tracking number will be provided once your order has shipped.
Standard Shipping*
2-7 business days*
Expedited Shipping*
1-4 business days*
*Standard shipping not available in some areas. If applicable, additional charges may apply.
*Additional charges may apply. Not available in some areas.
*Transit times are subject to change and are not guaranteed.
Please note that some items may be shipped via another carrier.
SHIPPING TO THE UNITED STATES
20$ flat rate shipping on orders shipped to the United States. Orders will be delivered by USPS. A shipping confirmation with a tracking number will be provided once your order has shipped. The recipient is responsible for all import taxes, duties and/or customs fees if applicable.
Exceptions: Furniture cannot be delivered outside of Canada.