QUI-AQTL100066B1 / QUI-AQTL100066B1
Quiksilver
Molokai Layback Sandals Sizes 4-9
FINAL SALE - NO RETURN
FINAL SALE : No exchange or refund.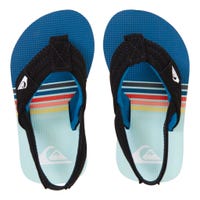 Molokai Layback Sandals Sizes 4-9
QUI-AQTL100066B1
QUI-AQTL100066B1
$0.00
Step 1 - Verify the availability in store of this product Step 2
In-store availability and reservation are not available for that product. Please add to cart, complete an online order and select ship to store to purchase this product.
Thank you !
You will receive an answer by email within 3 business hours.
(After this time, check your junk mail or contact the selected store.)
Continue shopping
The vegan nubuck Molokai Layback for toddlers steers clear of cry-baby drama to give your kiddo the best looking and best feeling beach footwear. Terrain tested and surfer approved, these water-friendly kicks are a step up from your average boys sandal. The textured footbed features art to match our best-selling boardshorts. An anatomically correct arch support holds his foot in straight and steady alignment to keep him walking tall all day. And should his path become wet and wild, the outsole's enhanced traction keeps him sure-footed. Better grip, zero slips, no problem.
Features:
-Upper: Vegan nubuck upper with back strap
-Lining: Soft polyester water-friendly woven lining for comfort
-Footbed: Textured footbed with seasonal boardshort and tee shirt graphics
-Outsole: Engineered blown rubber outsole incorporates multi angled logo lugs for added traction
-Anatomically correct arch support
-Coordinating pop color pin lines in sidewall
Fabric: Upper: Synthetic / Lining: Textile / Outsole: EVA Rubber
About the brand
The Quiksilver brand combines function, fit and fashion by designing and producing casual and comfortable indoor and outdoor clothing for children and teens from 3 months to 16 years.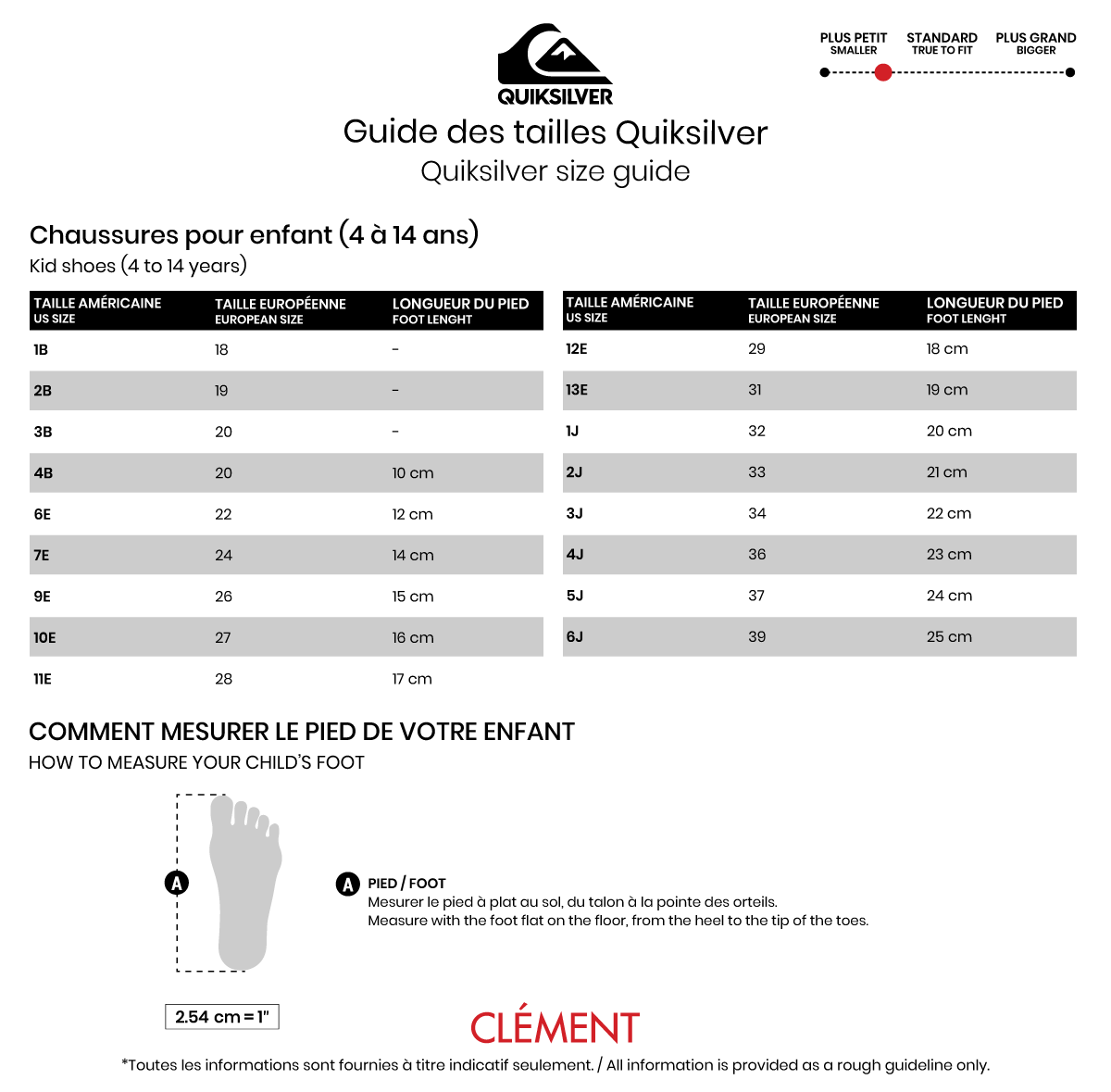 This item is subject to some delivery restrictions
FREE IN-STORE PICK UP
This item is not available for in-store pick up.
SHIPPING TO CANADA
$7 flat rate shipping charge applies. Orders are shipped by Canada Post. A shipping confirmation with tracking number will be provided once your order has shipped.
Standard Shipping*
3-10 business days*
Expedited Shipping*
1-4 business days*
*Standard shipping not available in some areas. If applicable, additional charges may apply.
*Additional charges may apply. Not available in some areas.
*Transit times are subject to change and are not guaranteed.
Please note that some items may be shipped via another carrier.
SHIPPING TO THE UNITED STATES
20$ flat rate shipping applies for orders shipped to the United States. Orders will be delivered by USPS. A shipping confirmation with a tracking number will be provided once your order has shipped. The recipient is responsible for all import taxes, duties and/or customs fees if applicable.