MNK-MINISLINGGR / 1074490
Minimonkey
Mini Sling Minimonkey - Grey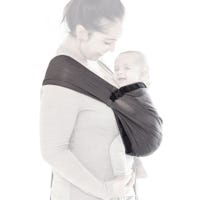 Mini Sling Minimonkey - Grey
MNK-MINISLINGGR
1074490
$59.99
Step 1 - Verify the availability in store of this product Step 2
In-store availability and reservation are not available for that product. Please add to cart, complete an online order and select ship to store to purchase this product.
Thank you !
You will receive an answer by email within 3 business hours.
(After this time, check your junk mail or contact the selected store.)
Continue shopping
This baby carrier is so small and light that you will always have it with you. It is extremely compact and weighs as much as a mobile phone (175 gr). The lovely airy Mini Sling allows you to ergonomically carry your baby – directly from birth, and it is very quick and easy to use.
Features:
- 0 to 2 years (max. 15kg ~ 33lbs)
-One size fits all
-Safe
-Washable at 40º (in a wash bag and at low RPM)
-Material: mesh fabric (light-weight polyester fabric with small holes)
-Waterproof – perfect for use in the shower, at the pool, on the beach…
-Super quick and easy – as long as you follow the instructions
-You carry your baby straight against your body, with its head on your chest. Its bottom is low and its upper legs are spread and high; in the M-position or 'frog position'
-This ergonomic method of carrying is recommended by paediatricians as it supports babies' hip development
-A newborn's legs are still close together. As your child grows, its legs spread and eventually you will be able to carry it on your hip (instead of against your chest). Especially curious toddlers enjoy being carried on the hip as it allows for excellent views all around!
-The Mini Sling has a safety loop. It stops the fabric sliding off your baby's bottom, preventing your baby coming out of the sling unexpectedly. This loop is not meant for carrying your baby; it hangs loose when your baby is resting its bottom in the sling, but prevents your baby falling out in case it overstretches
-Although you can carry your baby in the Mini Sling for hours, it is primarily intended for when you need to carry your child quickly and for shorter lengths of time
About the brand
Simple and Smart. The Award winning Minimonkey Minichair is a handy seat for your child. With the Minichair you can transform every seat, including a hig chair into a stable and safe baby seat.
FREE IN-STORE PICK UP
Free in-store pick up available in all Clement stores for orders over $30. A $5 handling fee applies for orders of less than $30. Orders will be delivered in-store within 3 to 10 business days. Please wait until you received an email notification indicating that your order is available for pick up before going in-store.
Orders will be kept in store for one month. After that delay, the order will be cancelled and refunded.
SHIPPING TO CANADA
Free shipping on orders of $100 or more. For all other orders, a $7 flat rate shipping charge applies. Orders are shipped by Canada Post. A shipping confirmation with tracking number will be provided once your order has shipped.
Standard Shipping*
2-7 business days*
Expedited Shipping*
1-4 business days*
*Standard shipping not available in some areas. If applicable, additional charges may apply.
*Additional charges may apply. Not available in some areas.
*Transit times are subject to change and are not guaranteed.
Please note that some items may be shipped via another carrier.
SHIPPING TO THE UNITED STATES
20$ flat rate shipping on orders shipped to the United States. Orders will be delivered by USPS. A shipping confirmation with a tracking number will be provided once your order has shipped. The recipient is responsible for all import taxes, duties and/or customs fees if applicable.
Exceptions: Furniture cannot be delivered outside of Canada.