SKK-552105 / 1078424
Stokke
Clikk High Chair - Fjord Blue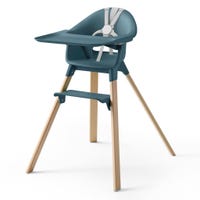 Clikk High Chair - Fjord Blue
SKK-552105
1078424
$248.99
Step 1 - Verify the availability in store of this product Step 2
To ensure the availability of the product, make a 24h reservation in store or directly contact the store.
You will receive an answer by email within 3 business hours.
Thank you !
You will receive an answer by email within 3 business hours.
(After this time, check your junk mail or contact the selected store.)
Continue shopping
Stokke® Clikk™ was specially designed to address all your needs… all in one box!
One minute, tool-free assembly means you're ready to eat, play, clean and get on with the rest of your day effortlessly. Your Stokke®Clikk™ comes with everything you need including matching tray and five-point harness for safety and peace of mind. Clean, contemporary design, without any nooks or crannies means no more scrubbing and digging out the secret leftovers of your baby's wandering hands. Stokke® Clikk™ can be used from 6 months to 3 years.. The deliberately minimalistic design offers the best balance of space and safety. Stokke® Clikk™ allows for proper strengthening of the spine, natural movements and supported exploration as your baby learns and develops alongside you at the family dining table.
Features:
-Assembles in one minute – tool-free
-Can be used from 6 months to 3 years
-Adjustable footrest for comfort at each age
-Easy to wipe clean, dishwasher safe tray
-Includes everything - high chair, tray and harness
-Sleek Scandinavian design
-Simply wipe clean and pop the tray into the dishwasher at the end of your day
-Simple to adapt configurations offer optimal back and leg support for comfort and ergonomics at each age
-No harmful substances / free from phthalates
-Active comfort: enough space to be able to move for learning & natural progress; baby set & integrated tray to give safe boundaries
-Suitable for weight in kg/lbs: 15 / 33
Size: (length x height x width) : 69 x 82.5 x 56 cm / 27.2" x 32.5" x 22.1"
Weight : 3.75kg / 8.3 lbs
Materials: FSC®-certified solid European beech wood, Plastics: PP (Polypropylene)

About the brand
Founded in Ålesund Norway in 1932, Stokke began life as a manufacturer of high-quality furniture. The first product for children was launched in 1972 – the iconic Tripp Trapp® chair, which has sold more than 11 million units and remains a core product in the Stokke collection.
Since 2006 Stokke has focused exclusively on designing premium children´s furniture and equipment within the highchair, stroller, baby carrier, home textiles and nursery segments. Their products promote bonding between parent and child and ensure healthy development for young children.
FREE IN-STORE PICK UP
Free in-store pick up available in all Clement stores for orders over $30. A $5 handling fee applies for orders of less than $30. Orders will be delivered in-store within 3 to 10 business days. Please wait until you received an email notification indicating that your order is available for pick up before going in-store.
Orders will be kept in store for one month. After that delay, the order will be cancelled and refunded.
SHIPPING TO CANADA
Free shipping on orders of $100 or more. For all other orders, a $7 flat rate shipping charge applies. Orders are shipped by Canada Post. A shipping confirmation with tracking number will be provided once your order has shipped.
Standard Shipping*
2-7 business days*
Expedited Shipping*
1-4 business days*
*Standard shipping not available in some areas. If applicable, additional charges may apply.
*Additional charges may apply. Not available in some areas.
*Transit times are subject to change and are not guaranteed.
Please note that some items may be shipped via another carrier.
SHIPPING TO THE UNITED STATES
20$ flat rate shipping on orders shipped to the United States. Orders will be delivered by USPS. A shipping confirmation with a tracking number will be provided once your order has shipped. The recipient is responsible for all import taxes, duties and/or customs fees if applicable.
Exceptions: Furniture cannot be delivered outside of Canada.