NAT-33106848ROS1 / NAT-33106848ROS1
Native Shoes
Fitzsimmons Citylite Bloom Boots Sizes 6-10
FINAL SALE - NO RETURN
FINAL SALE : No exchange or refund.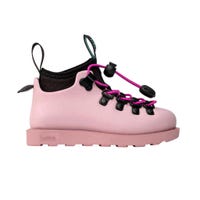 Fitzsimmons Citylite Bloom Boots Sizes 6-10
NAT-33106848ROS1
NAT-33106848ROS1
$0.00
Step 1 - Verify the availability in store of this product Step 2
In-store availability and reservation are not available for that product. Please add to cart, complete an online order and select ship to store to purchase this product.
Thank you !
You will receive an answer by email within 3 business hours.
(After this time, check your junk mail or contact the selected store.)
Continue shopping
The next step forward for our our award-winning future classic hiking-style boot. The Fitzsimmons Citylite has taken an earth-loving bound forward with a brand-new algae-infused Bloom upper, helping to return clean water and fresh air to our planet. The microfleece-lined bootie keeps toes warm and dry, while the grippy Bloom sole provides enhanced traction to keep little ones upright whatever the weather.
Features:
-Made with Algae
-EVA Upper Shell
-Soft Microfleece lining
-Citylite TPR outsole with Rise by Bloom
-Future Fiber
-Hand Washable
-Lightweight
-Absorbent
-Water Resistant
About the brand
Offer your children the ultra-trendy and comfortable shoes from Native Shoes. Their simple formula of innovation, originality, and the key ingredient — lite-ness — They're spreading good shoes and better vibes to all corners of the globe. They also been certified by PETA as an approved vegan brand.
This item is subject to some delivery restrictions
FREE IN-STORE PICK UP
This item is not available for in-store pick up.
SHIPPING TO CANADA
$7 flat rate shipping charge applies. Orders are shipped by Canada Post. A shipping confirmation with tracking number will be provided once your order has shipped.
Standard Shipping*
3-10 business days*
Expedited Shipping*
1-4 business days*
*Standard shipping not available in some areas. If applicable, additional charges may apply.
*Additional charges may apply. Not available in some areas.
*Transit times are subject to change and are not guaranteed.
Please note that some items may be shipped via another carrier.
SHIPPING TO THE UNITED STATES
20$ flat rate shipping applies for orders shipped to the United States. Orders will be delivered by USPS. A shipping confirmation with a tracking number will be provided once your order has shipped. The recipient is responsible for all import taxes, duties and/or customs fees if applicable.