LOT-BW-A / 1074166
Loot
Bubble Whoosh Bubble Bath - Aquamarine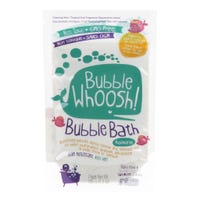 Bubble Whoosh Bubble Bath - Aquamarine
LOT-BW-A
1074166
$15.99
Step 1 - Verify the availability in store of this product Step 2
In-store availability and reservation are not available for that product. Please add to cart, complete an online order and select ship to store to purchase this product.
Thank you !
You will receive an answer by email within 3 business hours.
(After this time, check your junk mail or contact the selected store.)
Continue shopping
Bubble Whoosh Aquamarine is a tropical fruit-scented and aquamarine coloured moisturizing foaming bath powder, packed with ingredients known for their beneficial effect on the skin. Just one heaped tablespoon creates a lather-rich bubble bath. Vegan and gluten-free and GMO-free.
Features:
-Hand-made
-Safe, non-toxic and 99.5% natural (at a minimum)
-No pthalates, parabens, chemicals
-Non-GMO, vegan, gluten-free
-Moisturizing bubble bath powder for sensitive skin
-Presented in a recyclable, resealable stand up pouch
-All Loot products are hand-made in Vancouver, Canada
-Ingredients sourced in North America
Ingredients: Sodum Lauryl Sulfoacetate (Lathanol), Organic Coconut Oil, GMO-free Corn Starch, Organic Colloidal Oats, Sodium Bicarbonate, Essential and Fragrance Oils, FD&C colours (at less than 0.5% of total materials).
NOTE: The product appears pale yellow in the bag but turns a vivid aquamarine colour once in water.
About the brand
Loot was born in Vancouver, Canada in 2016. Their purpose and focus was making fun, skin-friendly and eco-aware kids bath products for the local toy and gift market. They are committed to manufacturing hand-made bath products, sourcing the materials in North America. Loot believe in the power of having fun at work, creating fun, skin-friendly products to be released in your kids' bathtub.
FREE IN-STORE PICK UP
Free in-store pick up available in all Clement stores for orders over $30. A $5 handling fee applies for orders of less than $30. Orders will be delivered in-store within 3 to 10 business days. Please wait until you received an email notification indicating that your order is available for pick up before going in-store.
Orders will be kept in store for one month. After that delay, the order will be cancelled and refunded.
SHIPPING TO CANADA
Free shipping on orders of $100 or more. For all other orders, a $7 flat rate shipping charge applies. Orders are shipped by Canada Post. A shipping confirmation with tracking number will be provided once your order has shipped.
Standard Shipping*
2-7 business days*
Expedited Shipping*
1-4 business days*
*Standard shipping not available in some areas. If applicable, additional charges may apply.
*Additional charges may apply. Not available in some areas.
*Transit times are subject to change and are not guaranteed.
Please note that some items may be shipped via another carrier.
SHIPPING TO THE UNITED STATES
20$ flat rate shipping on orders shipped to the United States. Orders will be delivered by USPS. A shipping confirmation with a tracking number will be provided once your order has shipped. The recipient is responsible for all import taxes, duties and/or customs fees if applicable.
Exceptions: Furniture cannot be delivered outside of Canada.