KDK-10041 / 1079649
KidKraft
Sort It & Store it Bin Unit Storage - Gray & Natural
Only in-store delivery is available for this product.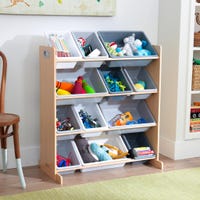 Sort It & Store it Bin Unit Storage - Gray & Natural
KDK-10041
1079649
$129.99
Step 1 - Verify the availability in store of this product Step 2
To ensure the availability of the product, make a 24h reservation in store or directly contact the store.
You will receive an answer by email within 3 business hours.
Thank you !
You will receive an answer by email within 3 business hours.
(After this time, check your junk mail or contact the selected store.)
Continue shopping
The KidKraft Sort It & Store It Bin Unit is a big, smart solution to family storage. With 12 interchangeable and removable plastic bins, this toy organizer offers plenty of room for toys, school and crafting supplies, books and anything else your kids cherish. The sturdy wood frame means this item will last for years.
Features :
12 plastic storage bins
Bins are all interchangeable and removable
Handles make it easy for an adult to lift and move as needed
Smart, sturdy construction
Packaged with detailed, step-by-step assembly instructions
Dimensions 35.76" x 18.5" x 35.39"
Box dimensions : 37.87" x 14.13" x 8.9"
About the brand
KidKraft believe every kid needs a place to explore and imagine. That's why they create quality products that inspire the imagination and empower children through play as they discover their world.
This item is subject to some delivery restrictions.
FREE IN-STORE PICK UP
Free in-store pick up available in all Clément stores for orders over $30. A $5 handling fee applies for orders of less than $30. Orders will be delivered in-store within 3 to 10 business days following the date of purchase. Please wait until you have received an email notification indicating that your order is available for pick up at the selected location before going in-store.
Orders will be kept at your selected location for one month after which the order will be cancelled and refunded if not picked-up by the customer.
SHIPPING TO CANADA
This item is not available for delivery to Canada.
SHIPPING TO THE UNITED STATES
This item is not available for delivery to the United States.