BRS-KII-12341 / 1078423
Bright Starts
Bright Starts Tug Tunes Toy - Unicorn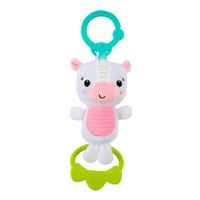 Bright Starts Tug Tunes Toy - Unicorn
BRS-KII-12341
1078423
$17.91
Step 1 - Verify the availability in store of this product Step 2
In-store availability and reservation are not available for that product. Please add to cart, complete an online order and select ship to store to purchase this product.
Thank you !
You will receive an answer by email within 3 business hours.
(After this time, check your junk mail or contact the selected store.)
Continue shopping
Tiny tugs turn on mighty melodies with the Tug Tunes Unicorn toy! Bright Starts presents a sweet newborn toy that helps encourage development of fine motor skills as baby practices reaching and pulling. When baby tugs on the green handle, this enchanting toy plays four different jingles.
Features:
-Soft and sweet, the plush unicorn will hang around anywhere you or baby go
-Easily travel with this take along toy by attaching the toy to your carrier or stroller
-Playtime is musically magical with this unicorn friend!
-Tune into fun with just a tug!
-Four different melodies respond to baby's touch
-Activity helps baby experience cause and effect
-Includes link to make it easy to take on the go
FREE IN-STORE PICK UP
Free in-store pick up available in all Clement stores for orders over $30. A $5 handling fee applies for orders of less than $30. Orders will be delivered in-store within 3 to 10 business days. Please wait until you received an email notification indicating that your order is available for pick up before going in-store.
Orders will be kept in store for one month. After that delay, the order will be cancelled and refunded.
SHIPPING TO CANADA
Free shipping on orders of $100 or more. For all other orders, a $7 flat rate shipping charge applies. Orders are shipped by Canada Post. A shipping confirmation with tracking number will be provided once your order has shipped.
Standard Shipping*
2-7 business days*
Expedited Shipping*
1-4 business days*
*Standard shipping not available in some areas. If applicable, additional charges may apply.
*Additional charges may apply. Not available in some areas.
*Transit times are subject to change and are not guaranteed.
Please note that some items may be shipped via another carrier.
SHIPPING TO THE UNITED STATES
20$ flat rate shipping on orders shipped to the United States. Orders will be delivered by USPS. A shipping confirmation with a tracking number will be provided once your order has shipped. The recipient is responsible for all import taxes, duties and/or customs fees if applicable.
Exceptions: Furniture cannot be delivered outside of Canada.