DOO-BGA50-GR / 1080144
Cloud B
Tranquil Turtle™ - Green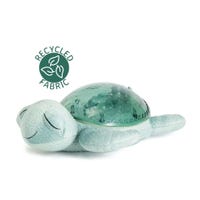 Tranquil Turtle™ - Green
DOO-BGA50-GR
1080144
$73.99
Step 1 - Verify the availability in store of this product Step 2
To ensure the availability of the product, make a 24h reservation in store or directly contact the store.
You will receive an answer by email within 3 business hours.
Thank you !
You will receive an answer by email within 3 business hours.
(After this time, check your junk mail or contact the selected store.)
Continue shopping
This pretty turtle diffuses a soft light and projects on the ceiling of the room the waves of the ocean in movement thanks to a unique and patented mechanism. The Tranquil Turtle nightlight soothes baby from birth and reassures children who are afraid of the dark. A marine melody and the sound of the waves (white noise) will soothe baby for a relaxing sleep.
Features:
-Recycled fabric
- COMFORTING: Our products are designed to help calm and soothe children to fall asleep better and make bedtime more pleasant and comforting.
-GENTLE SOUND & LIGHT: Projects underwater light effects along with a soft Melody or Ocean Waves
-ADJUSTABLE: Settings for brightness and movement create a fully controllable experience for various environments. 23 min automatic shutoff. Long life LEDs that don't heat up.
-AUTO-OFF: 30 min automatic shutoff
Dimensions: 20 x 10 x 28 cm
Age: 0+
About the brand
Cloud B creates and produces items such as night lights and soft toys to help your toddler sleep better. Redefining the traditional plush by offering options such as projection of light shapes or the release of soothing and comforting sounds, Cloud B is a guarantee of trust and superior quality.
FREE IN-STORE PICK UP
Free in-store pick up available in all Clement stores for orders over $30. A $5 handling fee applies for orders of less than $30. Orders will be delivered in-store within 3 to 10 business days. Please wait until you received an email notification indicating that your order is available for pick up before going in-store.
Orders will be kept in store for one month. After that delay, the order will be cancelled and refunded.
SHIPPING TO CANADA
Free shipping on orders of $100 or more. For all other orders, a $7 flat rate shipping charge applies. Orders are shipped by Canada Post. A shipping confirmation with tracking number will be provided once your order has shipped.
Standard Shipping*
2-7 business days*
Expedited Shipping*
1-4 business days*
*Standard shipping not available in some areas. If applicable, additional charges may apply.
*Additional charges may apply. Not available in some areas.
*Transit times are subject to change and are not guaranteed.
Please note that some items may be shipped via another carrier.
SHIPPING TO THE UNITED STATES
20$ flat rate shipping on orders shipped to the United States. Orders will be delivered by USPS. A shipping confirmation with a tracking number will be provided once your order has shipped. The recipient is responsible for all import taxes, duties and/or customs fees if applicable.
Exceptions: Furniture cannot be delivered outside of Canada.