COS-01323CFNA / 1078365
Maxi-cosi
Lara Ultracompact Stroller - Essential Black
Special Price
$263.99
Regular Price
$329.99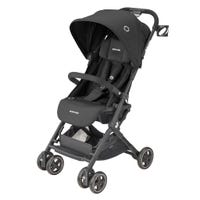 Lara Ultracompact Stroller - Essential Black
COS-01323CFNA
1078365
$263.99
Step 1 - Verify the availability in store of this product Step 2
To ensure the availability of the product, make a 24h reservation in store or directly contact the store.
You will receive an answer by email within 3 business hours.
Thank you !
You will receive an answer by email within 3 business hours.
(After this time, check your junk mail or contact the selected store.)
Continue shopping
Ready for Small Spaces and Big Adventures
The ultra-light and compact Lara stroller is ready to travel everywhere with ease. Because having a baby doesn't mean you have to stop enjoying all of your favourite adventures, such as dining out, shopping, or travelling on vacation.
Conveniently Compact and Lightweight
With the super convenient Lara, it's easy to navigate through your day-to-day travels. It maneuvers with ease around every turn, folds compactly with a simple touch, and loads effortlessly into the smallest of spaces. It's ultra-light and once you've arrived at your destination, it easily carries over your shoulder with a comfy strap and is a breeze to bring inside or upstairs.
Plenty of Storage Space
With every family trip, there can be the added stress of wondering where you're going to put all of your child's accessories. Unique to the Lara, you'll find two easy-to-access storage baskets. Now you can plan each adventure knowing that you'll have enough room for items you'll need along the way, such as diapers, spare clothes, snacks—even a few of your own things.
Premium Comfort and Sun Protection
Additionally, the Lara features two riding positions: upright and recline. The upright position is perfect for times when baby is alert and eager to see the world ahead. The recline position, equipped with a convenient leg rest, is ideal for taking those much-needed naps. The breathable seat pad keeps baby comfy and cool, while the ultra-padded plush fabrics provide premium comfort with every ride. On those bright and sunny days, the extendable sunshade with UPF 50 helps protect your child. Plus, the parent cup holder offers a convenient place to keep your drink during strolls.
Integrated Travel Bag
The Lara has an integrated protective travel bag that tucks away under the seat. No more trying to remember where you've stored the travel bag in the house. It stays folded neatly under the seat ready for use when needed.
The Lara is ideal for families who enjoy big adventures with a little extra convenience. No matter where you need to be, the Lara will be by your side.
Features:
-Ultra-compact and lightweight at only 14 lb
-Comfortable carry strap makes it easy to tote around when folded
-Simple one-hand quick fold
-Two baskets for extra storage
-Breathable seat pad keeps baby cool
-Removable ultra-padded headrest offers premium comfort
-Multiple reclining positions
-Adjustable footrest provides leg support
-Extendable protective sunshade with UPF 50 and mesh peek-a-boo window
-Protective travel bag folds neatly into its designated pouch and is ready for use when needed
-Removable weather guard is included for those surprise showers or windy days
-All-wheel suspension for a smooth ride
-Lockable front swivel wheels
-Removable bumper bar can be released from one side for easy in and out
-Cupholder included
About the brand
Make traveling with your baby simple and enjoyable without compromising on comfort by choosing the Maxi-Cosi baby strollers and baby car seats!
FREE IN-STORE PICK UP
Free in-store pick up available in all Clement stores for orders over $30. A $5 handling fee applies for orders of less than $30. Orders will be delivered in-store within 3 to 10 business days. Please wait until you received an email notification indicating that your order is available for pick up before going in-store.
Orders will be kept in store for one month. After that delay, the order will be cancelled and refunded.
SHIPPING TO CANADA
Free shipping on orders of $100 or more. For all other orders, a $7 flat rate shipping charge applies. Orders are shipped by Canada Post. A shipping confirmation with tracking number will be provided once your order has shipped.
Standard Shipping*
2-7 business days*
Expedited Shipping*
1-4 business days*
*Standard shipping not available in some areas. If applicable, additional charges may apply.
*Additional charges may apply. Not available in some areas.
*Transit times are subject to change and are not guaranteed.
Please note that some items may be shipped via another carrier.
SHIPPING TO THE UNITED STATES
20$ flat rate shipping on orders shipped to the United States. Orders will be delivered by USPS. A shipping confirmation with a tracking number will be provided once your order has shipped. The recipient is responsible for all import taxes, duties and/or customs fees if applicable.
Exceptions: Furniture cannot be delivered outside of Canada.