CIK-SPOON3FBEOC / 1073015
Cink
Bamboo Toddler Spoon 3-pack - Fog/Beet/Ocean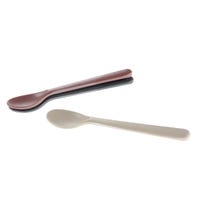 Bamboo Toddler Spoon 3-pack - Fog/Beet/Ocean
CIK-SPOON3FBEOC
1073015
$14.99
Step 1 - Verify the availability in store of this product Step 2
In-store availability and reservation are not available for that product. Please add to cart, complete an online order and select ship to store to purchase this product.
Thank you !
You will receive an answer by email within 3 business hours.
(After this time, check your junk mail or contact the selected store.)
Continue shopping
The toddler spoon is ideal for kids 3 years and up. The handle gives the child a firm grip and makes it easy to shove and impale the food.
Features:
-Includes 3 spoons
-BPA, PVC and Phthalates free
-Food safe approved in accordance with EU Framwork Regulation (EC) No 1935/2004 and LFGB and The U.S. Food and Drug Administration (FDA)
-Suitable for hot and cold foods and liquids
-No microwave
-Top-rack dishwasher safe. Since the products are made of natural bamboo material, handwash is recommended for best results.
*Please note that although bamboo dinnerware is durable and won't smash like ceramics, it can ship or break if dropped on a hard surface
About the brand
A sunny autumn day in the south of Sweden, with inspiration from the shapes and colors of the landscape, Cink was created. With a flurry of products for kids of all ages Cink still thought there was one big thing missing in the kids section- Clean, stylish dinnerware for baby's that fits in the grown-up home. The idea of the company is that the five colors of CINK should be constant in all products. The company name is therefore their Swedish version of "cinq" the french word for 5.
FREE IN-STORE PICK UP
Free in-store pick up available in all Clement stores for orders over $30. A $5 handling fee applies for orders of less than $30. Orders will be delivered in-store within 3 to 10 business days. Please wait until you received an email notification indicating that your order is available for pick up before going in-store.
Orders will be kept in store for one month. After that delay, the order will be cancelled and refunded.
SHIPPING TO CANADA
Free shipping on orders of $100 or more. For all other orders, a $7 flat rate shipping charge applies. Orders are shipped by Canada Post. A shipping confirmation with tracking number will be provided once your order has shipped.
Standard Shipping*
2-7 business days*
Expedited Shipping*
1-4 business days*
*Standard shipping not available in some areas. If applicable, additional charges may apply.
*Additional charges may apply. Not available in some areas.
*Transit times are subject to change and are not guaranteed.
Please note that some items may be shipped via another carrier.
SHIPPING TO THE UNITED STATES
20$ flat rate shipping on orders shipped to the United States. Orders will be delivered by USPS. A shipping confirmation with a tracking number will be provided once your order has shipped. The recipient is responsible for all import taxes, duties and/or customs fees if applicable.
Exceptions: Furniture cannot be delivered outside of Canada.