LAK-LK50512 / 1078437
Larktale
Snack Tray Set for Caravan™ Stroller/Wagon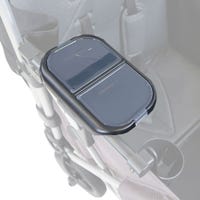 Snack Tray Set for Caravan™ Stroller/Wagon
LAK-LK50512
1078437
$64.99
Step 1 - Verify the availability in store of this product Step 2
To ensure the availability of the product, make a 24h reservation in store or directly contact the store.
You will receive an answer by email within 3 business hours.
Thank you !
You will receive an answer by email within 3 business hours.
(After this time, check your junk mail or contact the selected store.)
Continue shopping
Get your snack on! This Snack Tray Set helps make mealtime a breeze while you're out and about in your Larktale caravan stroller/wagon (sold separately).
Features:
-Set includes two snack trays and two removable cup holders - one setup for each caravan seat
-Two compartment snack tray features snap lids to keep snacks and small items from falling out
-Flexible tray positioning - attaches inside the caravan close to the passenger, or on the outside of the caravan when more seating space is needed
-Works with or without the caravan sun canopy set attached
-Attaches easily and can be quickly removed for folding the caravan
-Compatible only with the Larktale caravan stroller/wagon(sold separately)
About the brand
Larktale was created by parents who have experienced the joy of bringing up children. Larktale purpose is to empower parents around the world to seamlessly fit the magic of baby into their independent lives. With modern parenthood in mind, they have proudly developed some of the best baby strollers available and a wide range of accompanying stroller accessories, focusing on innovative products that look good, solve problems, and make it even easier to bring your baby along for any adventure.
FREE IN-STORE PICK UP
Free in-store pick up available in all Clement stores for orders over $30. A $5 handling fee applies for orders of less than $30. Orders will be delivered in-store within 3 to 10 business days. Please wait until you received an email notification indicating that your order is available for pick up before going in-store.
Orders will be kept in store for one month. After that delay, the order will be cancelled and refunded.
SHIPPING TO CANADA
Free shipping on orders of $100 or more. For all other orders, a $7 flat rate shipping charge applies. Orders are shipped by Canada Post. A shipping confirmation with tracking number will be provided once your order has shipped.
Standard Shipping*
2-7 business days*
Expedited Shipping*
1-4 business days*
*Standard shipping not available in some areas. If applicable, additional charges may apply.
*Additional charges may apply. Not available in some areas.
*Transit times are subject to change and are not guaranteed.
Please note that some items may be shipped via another carrier.
SHIPPING TO THE UNITED STATES
20$ flat rate shipping on orders shipped to the United States. Orders will be delivered by USPS. A shipping confirmation with a tracking number will be provided once your order has shipped. The recipient is responsible for all import taxes, duties and/or customs fees if applicable.
Exceptions: Furniture cannot be delivered outside of Canada.