IPA-26325-21020 / IPA-26325-21020
Ipanema
Slippy Sandals Sizes 11-4 - Camo
Slippy Sandals Sizes 11-4 - Camo
IPA-26325-21020
IPA-26325-21020
$0.00
Step 1 - Verify the availability in store of this product Step 2 - Fill out the form to request for a 24-hour in-store free reservation
Reserve in store and product availability service is currently unavailable.
Thank you !
You will receive an answer by email within 3 business hours.
(After this time, check your junk mail or contact the selected store.)
Continue shopping
Product available in selected stores only. Please check availability by clicking on our "AVAILABILITY AND RESERVATION 24H IN-STORE" tool.
About the brand
Let your children aged 3 to 8 enjoy the comfortable, colorful and waterproof sandals from Ipanema. Based in Brazil, this company is inspired by the coastal area of the famous beach bearing its name. Functional and of quality, Ipanema sandals remain a safe and sensible choice for both little and older ones!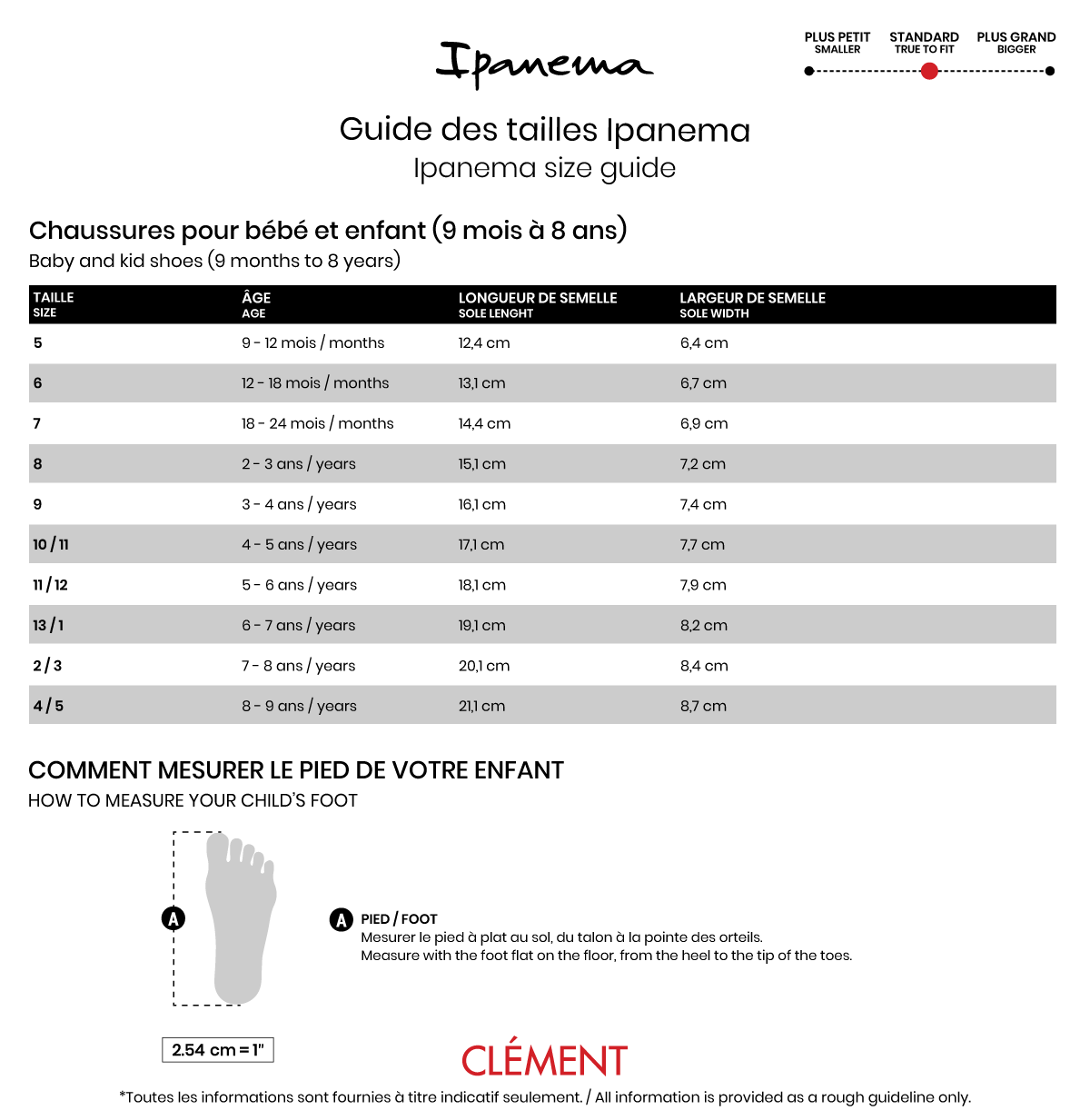 FREE IN-STORE PICK UP
Free in-store pick up available in all Clement stores. Orders will be delivered in-store within 3 to 10 business days. Please wait until you received an email notification indicating that your order is available for pick up before going in-store.
Orders will be kept in store for one month. After that delay, the order will be cancelled and refunded.
SHIPPING TO CANADA
Free shipping on orders of $100 or more. For all other orders, a $7 flat rate shipping charge applies. Orders are shipped by Canada Post. A shipping confirmation with tracking number will be provided once your order has shipped.
Standard Shipping*
2-7 business days*
Expedited Shipping*
1-4 business days*
*Standard shipping not available in some areas. If applicable, additional charges may apply.
*Additional charges may apply. Not available in some areas.
*Transit times are subject to change and are not guaranteed.
Please note that some items may be shipped via another carrier.
SHIPPING TO THE UNITED STATES
20$ flat rate shipping on orders shipped to the United States. Orders will be delivered by USPS. A shipping confirmation with a tracking number will be provided once your order has shipped. The recipient is responsible for all import taxes, duties and/or customs fees if applicable.