ME2-101043283 / 1076836
Medela
Silicone Breast Milk Collector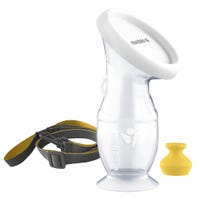 Silicone Breast Milk Collector
ME2-101043283
1076836
$29.99
Step 1 - Verify the availability in store of this product Step 2
To ensure the availability of the product, make a 24h reservation in store or directly contact the store.
You will receive an answer by email within 3 business hours.
Thank you !
You will receive an answer by email within 3 business hours.
(After this time, check your junk mail or contact the selected store.)
Continue shopping
The NEW Medela Silicone Breast Milk Collector is a true breastfeeding companion and breast milk saver. With its double leak proof design, lanyard and suction base, Medela's Silicone Breast Milk Collector protects each precious drop of milk from being lost, to ensure your baby receives it all!
Easy to use, simply attach the breast milk collector, also known among other brands as a silicone breast pump, on one breast while feeding from the other to capture your natural let-down.
Features:
-Double leak proof: double the protection with both stopper and lid
-Clip on lanyard: minimizes accidental spilling and provides peace of mind during use
-Secure Suction Base: secures to flat surfaces to avoid tipping over when placed down
-Comfortable: soft silicone breast shield and body
-Easy to use and clean: 1-piece construction
-Quiet and discreet breast milk collector
-Light and portable, ideal on the go: take it with you anywhere you go as your breastfeeding companion
-Safe for you and baby: All parts that touch breast milk are made without BPA. Made from 100% food-grade silicone
-Holds up to 100 mL / 3.4 oz. of breast milk.
*Not a breast pump – a breast milk catcher, milk saver, or silicone breast pump does not generate any sucking cycles to actively remove milk from the breast in an effective and efficient manner.
About the brand
Discover the Medela company, that constantly innovates to offer mothers functional, safe and comfortable breastfeeding products so that they can enjoy everyday life with their baby.
FREE IN-STORE PICK UP
Free in-store pick up available in all Clement stores for orders over $30. A $5 handling fee applies for orders of less than $30. Orders will be delivered in-store within 3 to 10 business days. Please wait until you received an email notification indicating that your order is available for pick up before going in-store.
Orders will be kept in store for one month. After that delay, the order will be cancelled and refunded.
SHIPPING TO CANADA
Free shipping on orders of $100 or more. For all other orders, a $7 flat rate shipping charge applies. Orders are shipped by Canada Post. A shipping confirmation with tracking number will be provided once your order has shipped.
Standard Shipping*
2-7 business days*
Expedited Shipping*
1-4 business days*
*Standard shipping not available in some areas. If applicable, additional charges may apply.
*Additional charges may apply. Not available in some areas.
*Transit times are subject to change and are not guaranteed.
Please note that some items may be shipped via another carrier.
SHIPPING TO THE UNITED STATES
20$ flat rate shipping on orders shipped to the United States. Orders will be delivered by USPS. A shipping confirmation with a tracking number will be provided once your order has shipped. The recipient is responsible for all import taxes, duties and/or customs fees if applicable.
Exceptions: Furniture cannot be delivered outside of Canada.