CEK-FO19C1-GYW / 1069973
Clek
Convertible Car Seat Foonf 14-65lb - Cloud
- Maximum delivery time: 4 weeks. Delivery for remote areas are subject to approval.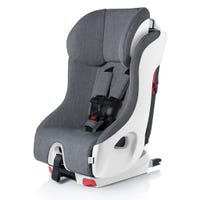 Convertible Car Seat Foonf 14-65lb - Cloud
CEK-FO19C1-GYW
1069973
$619.99
Step 1 - Verify the availability in store of this product Step 2 - Fill out the form to request for a 24-hour in-store free reservation
To ensure the availability of the product, make a 24h reservation in store or directly contact the store.
You will receive an answer by email within 3 business hours.
Thank you !
You will receive an answer by email within 3 business hours.
(After this time, check your junk mail or contact the selected store.)
Continue shopping
MODEL 2019
Providing the best protection isn't just about offering best-in-class safety features, it's about doing everything we can to ensure the well-being of children.

Foonf is Clek's no-compromise convertible child seat introducing revolutionary safety technology, innovative convenience features, and recyclable. Designed for comfort and convenience, syled to match child's individuality, featuring Clek's signature rigid-uas installation and a narrow width profile, Foonf car seat actually makes a parent's job easier.

Features:
-Made in Canada
-Extended rear-facing installation; Foonf is designed to international best practices for extended rear-facing use, which is to accommodate children in a rear-facing installation until their 4th birthday.
-Rigid Sub-Structure; Foonf is reinforced by a steel and magnesium sub-structure.
-Advances side impact protection; energy-absorbing foam-lined headrest connected to frame using steel rods provides maximum head protection in a side-impact collision.
-Foam layers on both the inside and outside of the frame protect your child by absorbing energy in a side-impact collision, resulting in less force directly upon your child.
-NCAP Tested; Foonf is crash tested to NCAP, which simulates forces experienced in extreme collisions
-Anti-rebound bar; In Rear-Facing mode, Foonf's Anti-Rebound bar improves stability by limiting rotation of the child seat, helping protect your child's head from impact in the case of a collision.
-Equipped with the revolutionary REACT security system; The REACT™ Safety System integrated into Foonf child car seat protects your child much like the crumple zones in the cars we drive.
-Vehicle-friendly rear-facing design; base of child seat measures 13" / 33cm wide for improved installation in difficult vehicle seating positions, like deep bucket seats and centre seating positions. Anti-rebound bar nests into flat part of vehicle seat back ensuring a snug installation with ease.
-Smooth Recline; Foonf includes an easy-to-engage, smooth recline function, making each ride more comfortable.
-Rigid-UAS forward-facing installation; Foonf's rigid-UAS system makes proper forward-Facing installation effortless.
-Foonf boasts a narrow width under 17" / 43cm at its widest point and 13" / 33cm at the base making 3-across seating possible.
-Fabrics are GREENGUARD Select Certified and provide permanent protection against stains, moisture and odor-causing bacteria.
-Approved for use in aircraft

Recommended child weight when the seat is rear facing: 14lb to 40lbs / 6.4kg to 18lbs
Recommended child size when the seat is rear facing: 25" to 43" / 63.5cm to 109cm
Recommended child's age when the seat is rear facing: Able to sit without support

Recommended child weight when the seat is forward facing: 22lb at 65lb / 10kg at 29.5kg
Recommended child size when the seat is forward facing: 30" to 49" / 76.2cm to 124.5cm
Recommended age of the child when the seat is foward facing: Recommended for 2 years and older (1 year minimum)

Seating height: 21.5" - 26" / 54.6cm - 66cm
Harness-slot height: 8" - 17" / 20.3cm - 43.2cm
Width: 13" / 33cm at its narrowest point - 17" / 43cm at its widest point
Seating depth: 12.5" / 31.8cm

Seat weight in rear facing position (+ anti-rebound bar): 38lb / 17,2kg
Seat weight in forward position: 33lb / 15kg

Expiration 9 years 
About the brand
Clek is engineered to protect your child. Designed to make a statement. They make car seats for parents like you. Stylish. Comfortable. Convenient.
FREE IN-STORE PICK UP
Free in-store pick up available in all Clement stores. Orders will be delivered in-store within 3 to 10 business days. Please wait until you received an email notification indicating that your order is available for pick up before going in-store.
Orders will be kept in store for one month. After that delay, the order will be cancelled and refunded.
SHIPPING TO CANADA
Free shipping on orders of $100 or more. For all other orders, a $7 flat rate shipping charge applies. Orders are shipped by Canada Post. A shipping confirmation with tracking number will be provided once your order has shipped.
Standard Shipping*
2-7 business days*
Expedited Shipping*
1-4 business days*
*Standard shipping not available in some areas. If applicable, additional charges may apply.
*Additional charges may apply. Not available in some areas.
*Transit times are subject to change and are not guaranteed.
Please note that some items may be shipped via another carrier.
SHIPPING TO THE UNITED STATES
20$ flat rate shipping on orders shipped to the United States. Orders will be delivered by USPS. A shipping confirmation with a tracking number will be provided once your order has shipped. The recipient is responsible for all import taxes, duties and/or customs fees if applicable.