WAT-440004212 / 1072898
Walter's
Protect Waterproofing Spray for Shoes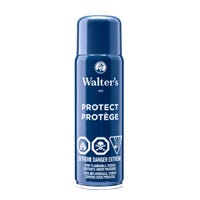 Protect Waterproofing Spray for Shoes
WAT-440004212
1072898
$11.99
Step 1 - Verify the availability in store of this product Step 2
In-store availability and reservation are not available for that product. Please add to cart, complete an online order and select ship to store to purchase this product.
Thank you !
You will receive an answer by email within 3 business hours.
(After this time, check your junk mail or contact the selected store.)
Continue shopping
Features:
-Suited for all kinds of leather, suede, nubuck and textiles
-PFOS/ PFOA Free formula
-Creates an invisible waterproof barrier to help repel dirt and stains
-Made in Canada with domestic and imported parts
Directions:
Spray entire article evenly from 15-20cm away. Allow to Dry. Repeat as necessary. May Darken Some Materials. Test on Small Area First. Keep away from children and pets.
Contents harmful. Contents may catch fire. Fumes may catch fire. Container may explode if heated. May irritate eyes. May irritate skin. Do not swallow. Do not smoke. Do not puncture. Do not burn. Do not mix with other chemicals. Do not get in eyes. Do not get on skin or clothing. Do not breathe fumes. Keep out of reach of children. Wear safety glasses and chemical resistant gloves. Use only in a well-ventilated area. Keep away from flames, such as a pilot light, and any object that sparks, such as an electric motor. Store away from heat.
First aid treatment: Contains heptane. If swallowed, call a poison control centre or doctor immediately. Do not induce vomiting. If in eyes, rinse with water for 15 minutes. If on skin, rinse well with water. If breathed in, move person into fresh air.
FREE IN-STORE PICK UP
Free in-store pick up available in all Clement stores for orders over $30. A $5 handling fee applies for orders of less than $30. Orders will be delivered in-store within 3 to 10 business days. Please wait until you received an email notification indicating that your order is available for pick up before going in-store.
Orders will be kept in store for one month. After that delay, the order will be cancelled and refunded.
SHIPPING TO CANADA
Free shipping on orders of $100 or more. For all other orders, a $7 flat rate shipping charge applies. Orders are shipped by Canada Post. A shipping confirmation with tracking number will be provided once your order has shipped.
Standard Shipping*
2-7 business days*
Expedited Shipping*
1-4 business days*
*Standard shipping not available in some areas. If applicable, additional charges may apply.
*Additional charges may apply. Not available in some areas.
*Transit times are subject to change and are not guaranteed.
Please note that some items may be shipped via another carrier.
SHIPPING TO THE UNITED STATES
20$ flat rate shipping on orders shipped to the United States. Orders will be delivered by USPS. A shipping confirmation with a tracking number will be provided once your order has shipped. The recipient is responsible for all import taxes, duties and/or customs fees if applicable.
Exceptions: Furniture cannot be delivered outside of Canada.