COV-81229 / COV-81229
Converse
Chuck Taylor First Star Leather Sizes 1-4 - White
Chuck Taylor First Star Leather Sizes 1-4 - White
COV-81229
COV-81229
$0.00
Step 1 - Verify the availability in store of this product Step 2
In-store availability and reservation are not available for that product. Please add to cart, complete an online order and select ship to store to purchase this product.
Thank you !
You will receive an answer by email within 3 business hours.
(After this time, check your junk mail or contact the selected store.)
Continue shopping
A head-start for the next generation of sneakerheads, the Chuck Taylor First Star is an infant-approved version of the iconic Chuck Taylor sneaker. With a flexible leather upper and cushioned terry cloth insole, the Chuck Taylor First Star initiates the new school to the world of Chuck Taylor.
Features:
-Infant shoe with lightweight leather upper
-Velcro strap closure for easy foot insertion
-Flexible leather design lets baby's feet move naturally
-Foam-backed terry cloth insole for a plush feel
-Branded star ankle patch
-Terry cloth insole for comfort
-Lace-up design for a snug fit
About the brand
As soon as you put on your Converse and go about your business, their real life begins. You define them. You determine their journey. They become a unique celebration of your individuality and your free expression. They become a part of you. Icon of fashion, the Converse brand offers shoes for everyday life with a lot of personality!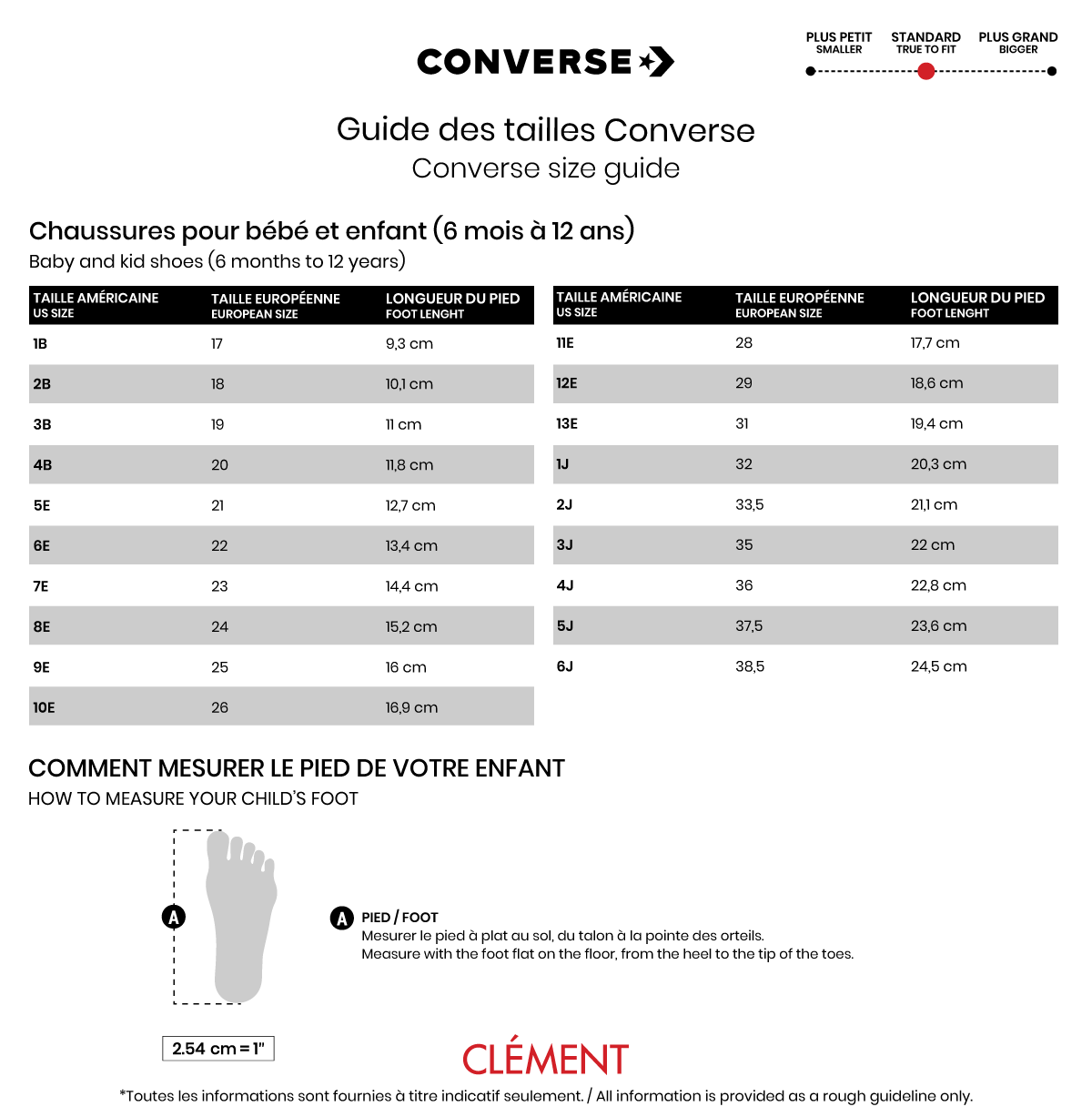 FREE IN-STORE PICK UP
Free in-store pick up available in all Clement stores for orders over $30. A $5 handling fee applies for orders of less than $30. Orders will be delivered in-store within 3 to 10 business days. Please wait until you received an email notification indicating that your order is available for pick up before going in-store.
Orders will be kept in store for one month. After that delay, the order will be cancelled and refunded.
SHIPPING TO CANADA
Free shipping on orders of $100 or more. For all other orders, a $7 flat rate shipping charge applies. Orders are shipped by Canada Post. A shipping confirmation with tracking number will be provided once your order has shipped.
Standard Shipping*
2-7 business days*
Expedited Shipping*
1-4 business days*
*Standard shipping not available in some areas. If applicable, additional charges may apply.
*Additional charges may apply. Not available in some areas.
*Transit times are subject to change and are not guaranteed.
Please note that some items may be shipped via another carrier.
SHIPPING TO THE UNITED STATES
20$ flat rate shipping on orders shipped to the United States. Orders will be delivered by USPS. A shipping confirmation with a tracking number will be provided once your order has shipped. The recipient is responsible for all import taxes, duties and/or customs fees if applicable.
Exceptions: Furniture cannot be delivered outside of Canada.
You might also like
As low as

$5.00

Regular Price

$27.99