ZIT-3417345DI / 1071176
Full Circle
Ziptuck Reusable Lunch Bags 2-pack - Dinosaur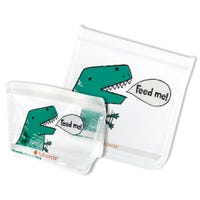 Ziptuck Reusable Lunch Bags 2-pack - Dinosaur
ZIT-3417345DI
1071176
$11.99
Step 1 - Verify the availability in store of this product Step 2
In-store availability and reservation are not available for that product. Please add to cart, complete an online order and select ship to store to purchase this product.
Thank you !
You will receive an answer by email within 3 business hours.
(After this time, check your junk mail or contact the selected store.)
Continue shopping
Features:
-Can be use for snack, travel bag, makeup bag, lunch bag or anything you need!
-Zero-Waste
-2 reusable food-safe, BPA-free storage bags
-Leak-proof, air-tight "lock" seal design
-Stores flat for easy packing and storage
-Reusable FDA-Grade EVA material
-Care instructions: Hand Wash (Best Results): This does best with a thorough wash in warm, soapy water. Just let it dry thoroughly before using and you'll be ready to go. Pro Tip: It's even easier if you turn them inside out (and they'll dry faster!)
-Dishwasher Safe: Just put it on the top rack, low heat for a quick refresher and a solid cleaning
Size: 
6.97" x 4.64" x 2.76" | 17.7cm x 11.8cm x 7cm
8.19" x 7.99" x 0.16" | 20.8cm x 20.3cm x 0.40cm
About the brand
Full Circle creates beautiful home care products for everyday families to promote health and order in their homes, and the one home we all share. It's not just about extending the lifecycle of products in your home or reducing landfill waste. As consumers and creators, they truly believe that even the littlest changes can have a big impact.
FREE IN-STORE PICK UP
Free in-store pick up available in all Clement stores for orders over $30. A $5 handling fee applies for orders of less than $30. Orders will be delivered in-store within 3 to 10 business days. Please wait until you received an email notification indicating that your order is available for pick up before going in-store.
Orders will be kept in store for one month. After that delay, the order will be cancelled and refunded.
SHIPPING TO CANADA
Free shipping on orders of $100 or more. For all other orders, a $7 flat rate shipping charge applies. Orders are shipped by Canada Post. A shipping confirmation with tracking number will be provided once your order has shipped.
Standard Shipping*
2-7 business days*
Expedited Shipping*
1-4 business days*
*Standard shipping not available in some areas. If applicable, additional charges may apply.
*Additional charges may apply. Not available in some areas.
*Transit times are subject to change and are not guaranteed.
Please note that some items may be shipped via another carrier.
SHIPPING TO THE UNITED STATES
20$ flat rate shipping on orders shipped to the United States. Orders will be delivered by USPS. A shipping confirmation with a tracking number will be provided once your order has shipped. The recipient is responsible for all import taxes, duties and/or customs fees if applicable.
Exceptions: Furniture cannot be delivered outside of Canada.