ROT-ROUTINEROSE / 1068012
Routine Clock
RoutineClock - Pink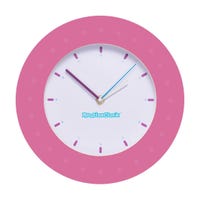 RoutineClock - Pink
ROT-ROUTINEROSE
1068012
$59.99
Step 1 - Verify the availability in store of this product Step 2 - Fill out the form to request for a 24-hour in-store free reservation
Reserve in store and product availability service is currently unavailable.
Thank you !
You will receive an answer by email within 3 business hours.
(After this time, check your junk mail or contact the selected store.)
Continue shopping
The RoutineClock is designed to assist and encourage parents and children to follow a routine. The routine events occurring within the hour can be placed on the clock at five minute intervals. When the first events have passed they can be removed and replaced with upcoming ones. With the convenient movable images you can follow a regular routine while maintaining some flexibility.

Features:
-includes one clock, one image storage bag and 10 images
-An effective way to make the routine fun
-Helps children understand and tell time
-Magnetic frame

Size: 10" diameter / 25,5 cm diameter
FREE IN-STORE PICK UP
Free in-store pick up available in all Clement stores. Orders will be delivered in-store within 3 to 10 business days. Please wait until you received an email notification indicating that your order is available for pick up before going in-store.
Orders will be kept in store for one month. After that delay, the order will be cancelled and refunded.
SHIPPING TO CANADA
Free shipping on orders of $100 or more. For all other orders, a $7 flat rate shipping charge applies. Orders are shipped by Canada Post. A shipping confirmation with tracking number will be provided once your order has shipped.
Standard Shipping*
2-7 business days*
Expedited Shipping*
1-4 business days*
*Standard shipping not available in some areas. If applicable, additional charges may apply.
*Additional charges may apply. Not available in some areas.
*Transit times are subject to change and are not guaranteed.
Please note that some items may be shipped via another carrier.
SHIPPING TO THE UNITED STATES
20$ flat rate shipping on orders shipped to the United States. Orders will be delivered by USPS. A shipping confirmation with a tracking number will be provided once your order has shipped. The recipient is responsible for all import taxes, duties and/or customs fees if applicable.