BBL-B0127 / 1064741
Bblüv
Rinö Battery Operated Nasal Aspirator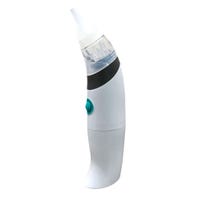 Rinö Battery Operated Nasal Aspirator
BBL-B0127
1064741
$54.99
Step 1 - Verify the availability in store of this product Step 2 - Fill out the form to request for a 24-hour in-store free reservation
Reserve in store and product availability service is currently unavailable.
Thank you !
You will receive an answer by email within 3 business hours.
(After this time, check your junk mail or contact the selected store.)
Continue shopping
Features
-Battery Operated Nasal Aspirator
-Non-invasive process
-Ergonomic and easy to use with one hand
-Limits virus transmission
-Large transparent leak-proof collection cup 201
-Easy to clean and does not require filters
-Provides a unique gentle continuous suction not available on manual aspirators
-Stands upright for easy storage
-Comes with 2 medical grade reusable silicone tips
-Batteries included

Dimensions : 2"x 1.2" x 7.5'' / 5.1 x 3 x 19 cm
About the brand
Bblüv is a company created by parents, for parents. It designs high quality, safe and essential children's products such as monitors, baby scales, activity mats, diaper bags, play tents and much more. Being onvenient and functional while having a unique design, the items offered appeal to parents but also remain attractive to children. Bblüv offers you thoughtful and well designed products so you can enjoy every moment with your baby.
FREE IN-STORE PICK UP
Free in-store pick up available in all Clement stores. Orders will be delivered in-store within 3 to 10 business days. Please wait until you received an email notification indicating that your order is available for pick up before going in-store.
Orders will be kept in store for one month. After that delay, the order will be cancelled and refunded.
SHIPPING TO CANADA
Free shipping on orders of $100 or more. For all other orders, a $7 flat rate shipping charge applies. Orders are shipped by Canada Post. A shipping confirmation with tracking number will be provided once your order has shipped.
Standard Shipping*
2-7 business days*
Expedited Shipping*
1-4 business days*
*Standard shipping not available in some areas. If applicable, additional charges may apply.
*Additional charges may apply. Not available in some areas.
*Transit times are subject to change and are not guaranteed.
Please note that some items may be shipped via another carrier.
SHIPPING TO THE UNITED STATES
20$ flat rate shipping on orders shipped to the United States. Orders will be delivered by USPS. A shipping confirmation with a tracking number will be provided once your order has shipped. The recipient is responsible for all import taxes, duties and/or customs fees if applicable.