CCO-QJ4818-C-900 / CCO-QJ4818-C-900
Bebe Coccoli
Protection Mask 2-16y - Grey Mix
- FINAL SALE : No exchange or refund.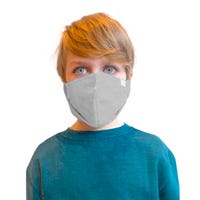 Protection Mask 2-16y - Grey Mix
CCO-QJ4818-C-900
CCO-QJ4818-C-900
$0.00
Step 1 - Verify the availability in store of this product Step 2
In-store availability and reservation are not available for that product. Please add to cart, complete an online order and select ship to store to purchase this product.
Thank you !
You will receive an answer by email within 3 business hours.
(After this time, check your junk mail or contact the selected store.)
Continue shopping
The barrier mask Coccoli is washable and reusable. These masks are made of the same high quality fabrics they use for their sleepwear. They are lined with a non-woven material which is essential to stopping micro-sized particles and for keeping a barrier between the face and external particulate matter. The fabric is breathable and comfortable, and the securing elastic is soft to the touch. All of the masks are made in Montreal, in a clean and healthy environment.
Size:
Small – recommended for children from 2 to 6 years
Medium - recommended for children 7 and up and most women
Construction:
-Multi-layer construction for superior filtration. Our masks successfully pass the "lighter" test
-Outer fabric is cotton/spandex
Interior fabric is a soft cotton jersey (on the skin) for comfort, backing in polyester (dries faster)
-Between the two layers is a non-woven filter, made of a 100% polyester commonly used as interlining in children's clothing, also suitable for surgical masks
Soft, adjustable elastic: one elastic should lay at the bottom of the head or neck and the other at the crown of your hair line
Care:
-Wash before first use
-Machine wash and dry - it is suggested that a laundry bag be used to prevent the elastic from getting tangled with the rest of the laundry
Please note that this product is a final purchase, and that for health reasons we cannot accept any returns. This mask does not replace a laboratory tested mask and does not replace a medical mask
This mask helps protect the people around you. It is neither a surgical mask nor an N95.
It does not replace good hand washing and social distancing.

The mask is composed of 3 thicknesses, the two outer layers are in cotton / spandex fabrics, the central layer is in Pellon fabric.

The elastic behind the head provides comfort, as well as good support for children.

Features:
-Available in 2 sizes: Small (S kids) = 2-6 years and Medium (M) = 7-16 years
-Made in Quebec

Fabric: 95% Organic cotton / 5% spandex

Care Instructions:
-Machine wash in hot water before each use or every 3 hours
-Dry flat or can be tumble dry

*Please note that for hygiene reasons this product is a final sale.
FREE IN-STORE PICK UP
Free in-store pick up available in all Clement stores. Orders will be delivered in-store within 3 to 10 business days. Please wait until you received an email notification indicating that your order is available for pick up before going in-store.
Orders will be kept in store for one month. After that delay, the order will be cancelled and refunded.
SHIPPING TO CANADA
Free shipping on orders of $100 or more. For all other orders, a $7 flat rate shipping charge applies. Orders are shipped by Canada Post. A shipping confirmation with tracking number will be provided once your order has shipped.
Standard Shipping*
2-7 business days*
Expedited Shipping*
1-4 business days*
*Standard shipping not available in some areas. If applicable, additional charges may apply.
*Additional charges may apply. Not available in some areas.
*Transit times are subject to change and are not guaranteed.
Please note that some items may be shipped via another carrier.
SHIPPING TO THE UNITED STATES
20$ flat rate shipping on orders shipped to the United States. Orders will be delivered by USPS. A shipping confirmation with a tracking number will be provided once your order has shipped. The recipient is responsible for all import taxes, duties and/or customs fees if applicable.