SKK-534202 / 1068847
Stokke
Silicone Mat for Stokke Tray - Pink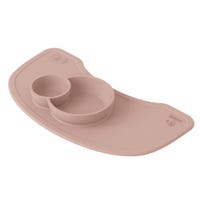 Silicone Mat for Stokke Tray - Pink
SKK-534202
1068847
$38.92
Step 1 - Verify the availability in store of this product Step 2 - Fill out the form to request for a 24-hour in-store free reservation
Reserve in store and product availability service is currently unavailable.
Thank you !
You will receive an answer by email within 3 business hours.
(After this time, check your junk mail or contact the selected store.)
Continue shopping
The ezpz™ by Stokke™ mat is an all-in-one placemat and bowls that is made to firmly fit the Stokke® Tray. The unique functionality means that it stays in place to contain those inevitable messes at mealtimes and prevents tipped bowls and plates. Not only is this tidier, it makes it easier for your little one to learn to self-feed. Made of high quality food grade silicone, it is strong, durable and easy to clean in the dishwasher.

Features:
-Made to fit the Stokke® Tray Tripp Trapp (sku 1068845)
-Stays in place to contain messes at mealtimes
-Helps prevent tipped bowls and plates
-Aids self-feeding
-Durable, easy to clean and dishwasher safe
-100% silicone (BPA, BPS, PVC and phthalate free)
-For best results please make certain that both the placemat and the surface upon which you are placing the mat are clean and free of dust. Your placemat will stay firmly in place when the surface you are using it on is flat (so that no air can get underneath). For optimal functionality center the placemat on the tray, avoiding the curved edges.
-Please note that there is limited adherence on rough and uneven surfaces
About the brand
Founded in Ålesund Norway in 1932, Stokke began life as a manufacturer of high-quality furniture. The first product for children was launched in 1972 – the iconic Tripp Trapp® chair, which has sold more than 11 million units and remains a core product in the Stokke collection.
Since 2006 Stokke has focused exclusively on designing premium children´s furniture and equipment within the highchair, stroller, baby carrier, home textiles and nursery segments. Their products promote bonding between parent and child and ensure healthy development for young children.
FREE IN-STORE PICK UP
Free in-store pick up available in all Clement stores. Orders will be delivered in-store within 3 to 10 business days. Please wait until you received an email notification indicating that your order is available for pick up before going in-store.
Orders will be kept in store for one month. After that delay, the order will be cancelled and refunded.
SHIPPING TO CANADA
Free shipping on orders of $100 or more. For all other orders, a $7 flat rate shipping charge applies. Orders are shipped by Canada Post. A shipping confirmation with tracking number will be provided once your order has shipped.
Standard Shipping*
2-7 business days*
Expedited Shipping*
1-4 business days*
*Standard shipping not available in some areas. If applicable, additional charges may apply.
*Additional charges may apply. Not available in some areas.
*Transit times are subject to change and are not guaranteed.
Please note that some items may be shipped via another carrier.
SHIPPING TO THE UNITED STATES
20$ flat rate shipping on orders shipped to the United States. Orders will be delivered by USPS. A shipping confirmation with a tracking number will be provided once your order has shipped. The recipient is responsible for all import taxes, duties and/or customs fees if applicable.
You might also like
Special Price

$194.25

Regular Price

$258.99

Special Price

$194.25

Regular Price

$258.99