ERA-3000314 / 1078263
Clément - Gear
Peanut 32" Kiddie Sled - Grey
Only in-store delivery is available for this product.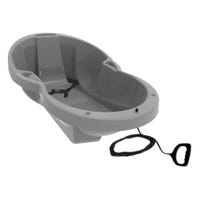 Peanut 32" Kiddie Sled - Grey
ERA-3000314
1078263
$24.99
Step 1 - Verify the availability in store of this product Step 2
To ensure the availability of the product, make a 24h reservation in store or directly contact the store.
You will receive an answer by email within 3 business hours.
Thank you !
You will receive an answer by email within 3 business hours.
(After this time, check your junk mail or contact the selected store.)
Continue shopping
Robust and comfortable 32" baby sled
Features:
– Wider body sled with lots of room for warm snow-suit
– Lying position and sitting position as baby grows
– Safety harness and tow rope included
– For age of 12 to 26 months
– Maximum weight of 50 lbs
Dimensions: 22″ x 32″ | 56 cm x 66 cm
weight: 4.3 lbs | 1960 gr.
Warning:
For Snow Use Only . Do Not Use on Ice or in Water. Always slide in an area free of obstacles and traffic. Do not tow this sled behind a vehicle. Do not wrap pull rope around any body part. Children should always be supervised by an adult when using this product. Proper Sledding Position : feet first, never head first. No kneeling, standing, or diving on sled. Controlling speed and the ability to maneuver or stop this product is affected by slope and snow conditions. This toy must be assembled by an adult.
About the brand
Discover the exclusive accessories presented by Clément. For babies or children, you will find everything you need for their happiness.
This item is subject to some delivery restrictions.
FREE IN-STORE PICK UP
Free in-store pick up available in all Clément stores for orders over $30. A $5 handling fee applies for orders of less than $30. Orders will be delivered in-store within 3 to 10 business days following the date of purchase. Please wait until you have received an email notification indicating that your order is available for pick up at the selected location before going in-store.
Orders will be kept at your selected location for one month after which the order will be cancelled and refunded if not picked-up by the customer.
SHIPPING TO CANADA
This item is not available for delivery to Canada.
SHIPPING TO THE UNITED STATES
This item is not available for delivery to the United States.