QUI-AQBL100558B2 / QUI-AQBL100558B2
Quiksilver
Molokai Art Sandals Sizes 10-6
FINAL SALE - NO RETURN
FINAL SALE : No exchange or refund.
Molokai Art Sandals Sizes 10-6
QUI-AQBL100558B2
QUI-AQBL100558B2
$0.00
Step 1 - Verify the availability in store of this product Step 2
In-store availability and reservation are not available for that product. Please add to cart, complete an online order and select ship to store to purchase this product.
Thank you !
You will receive an answer by email within 3 business hours.
(After this time, check your junk mail or contact the selected store.)
Continue shopping
What makes the Molokai Art Sandal a first-in-class choice for your little guy's beach feet? Exceptional design and long-lasting comfort combine, along with the added bonus of custom art. A flexible, 3-point, synthetic rubber strap ensures a secure fit that won't flop around. Plus, the top-quality rubber stays cushy yet strong for long walks across hot sand and sidewalks. No slippy, no melty, no problem. If it's a better-made sandal you want, it's a better-made sandal you'll get with these super slaps.
Features:
-Upper: Flexible 3 point synthetic rubber strap with Quiksilver wordmark and fine mold Mountain Wave logo
-Footbed: Slip resistant textured footbed
-Outsole: Engineered blown rubber outsole incorporates multi angled logo lugs for added traction
-Pop color pin lines in sidewall tying into colorway
Fabric: Upper: Synthetic, Outsole: Sponge Rubber
About the brand
The Quiksilver brand combines function, fit and fashion by designing and producing casual and comfortable indoor and outdoor clothing for children and teens from 3 months to 16 years.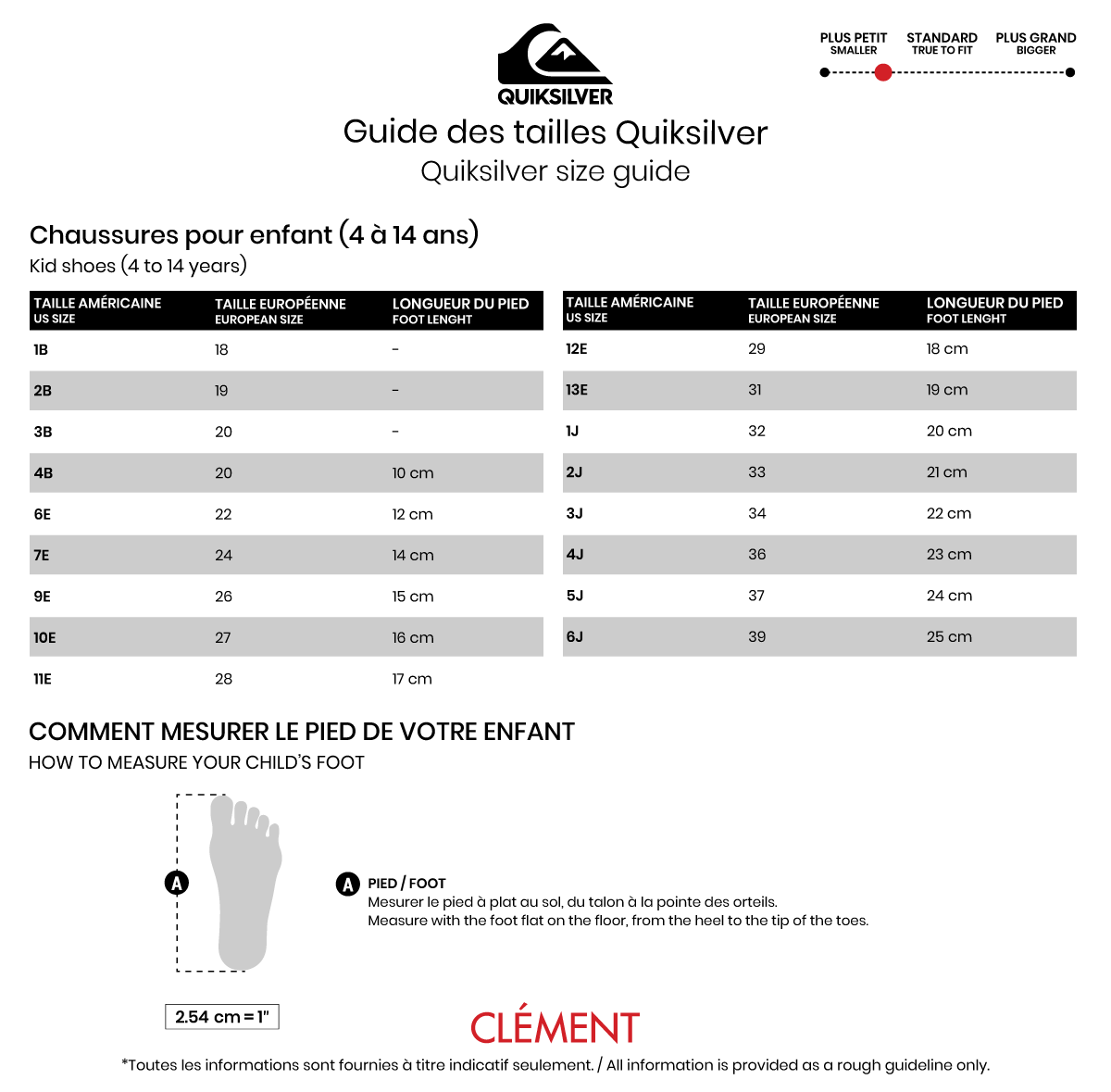 This item is subject to some delivery restrictions
FREE IN-STORE PICK UP
This item is not available for in-store pick up.
SHIPPING TO CANADA
$7 flat rate shipping charge applies. Orders are shipped by Canada Post. A shipping confirmation with tracking number will be provided once your order has shipped.
Standard Shipping*
3-10 business days*
Expedited Shipping*
1-4 business days*
*Standard shipping not available in some areas. If applicable, additional charges may apply.
*Additional charges may apply. Not available in some areas.
*Transit times are subject to change and are not guaranteed.
Please note that some items may be shipped via another carrier.
SHIPPING TO THE UNITED STATES
20$ flat rate shipping applies for orders shipped to the United States. Orders will be delivered by USPS. A shipping confirmation with a tracking number will be provided once your order has shipped. The recipient is responsible for all import taxes, duties and/or customs fees if applicable.