DUT-180P01155288 / 1063355
Dutailier
Moderno Gliding Armchair - Fogo - Matte Black Wooden Feet, Pale Gray Fabric #5288 And Dark Gray Piping #5287
- Heavy box, 2 people required to pick up this item.
- Only in-store delivery is available for this product.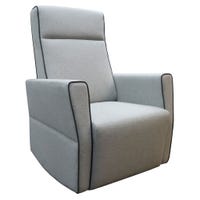 Moderno Gliding Armchair - Fogo - Matte Black Wooden Feet, Pale Gray Fabric #5288 And Dark Gray Piping #5287
DUT-180P01155288
1063355
$988.97
Step 1 - Verify the availability in store of this product Step 2
To ensure the availability of the product, make a 24h reservation in store or directly contact the store.
You will receive an answer by email within 3 business hours.
Thank you !
You will receive an answer by email within 3 business hours.
(After this time, check your junk mail or contact the selected store.)
Continue shopping
Features:
-Moderno glider, Fogo serie, fabric 5288, piping 5287
-High-end upholstered gliders are manufactured in Canada and fully assembled in our facilities
-Frames are built with solid wood tenons and mortises
-Meet some of the highest standards in the industry (BIFMA for commercial
products)
-Upholstered gliders are built with the Glide-r-motion® technology - the same mechanism we use on our wood gliders
-Allows for an extra long and smooth gliding movement
-Upholstered gliders are the only ones on the market with this gliding mechanism
-Available only in this wood & fabric color combination in stock
-Made and assembled in Canada

Size: 30" x 34" x 40" / 76 x 86 x 102 cm
Box: 30,5 x 34 x 31'' / 76 x 86 x 78 cm
Weight: 34 kg / 75 lb
About the brand
Dutailier offers wooden rocking chairs, upholstered chairs, and youthful furnishings designed and manufactured in Canada. Dutailier has kept its promise of quality for nearly 40 years with the care taken in the choice of its raw materials.
This item is subject to some delivery restrictions.
FREE IN-STORE PICK UP
Free in-store pick up available in all Clément stores. Orders will be delivered in-store within 3 to 10 business days following the date of purchase. Please wait until you have received an email notification indicating that your order is available for pick up at the selected location before going in-store.
Orders will be kept at your selected location for one month after which the order will be cancelled and refunded if not picked-up by the customer.
SHIPPING TO CANADA
This item is not available for delivery to Canada.
SHIPPING TO THE UNITED STATES
This item is not available for delivery to the United States.