RIV-11840 / 1067938
South Shore Furnitures
Savannah Solid Wood Twin Bunk Beds - Pure White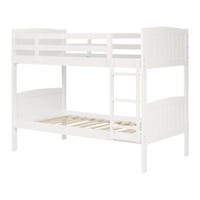 Savannah Solid Wood Twin Bunk Beds - Pure White
RIV-11840
1067938
$549.99
Step 1 - Verify the availability in store of this product Step 2 - Fill out the form to request for a 24-hour in-store free reservation
To ensure the availability of the product, make a 24h reservation in store or directly contact the store.
You will receive an answer by email within 3 business hours.
Thank you !
You will receive an answer by email within 3 business hours.
(After this time, check your junk mail or contact the selected store.)
Continue shopping
These bunk beds in the Cottage style, which never gets old, are just what you need in a small kids' room. Putting one bed on top of the other frees up more space for them to play! This oh-so-cute set, with slat details at either end of the beds, will appeal to little girls or boys.


Features:
- A BED FOR A TIGHT SPACE: These bunk beds have a much smaller footprint than a pair of single beds, so you can think about how you'd like to use the space – for extra storage, as an example.
- COTTAGE STYLE BED: The great looking slats at each end will make this elegant single bed a keeper for years to come.
- STURDY STRUCTURE: This bed, made of solid wood, is very sturdy and safe for kids aged six and up. South Shore is in compliance with all current standards, because kids' safety is important to us.
- 1-year limited guarantee. Any questions? Contact South Shore, the manufacturer, available 7/7 by phone, email or chat

Size: 77'' X 41.3'' X 61.1'' / 104.902 x 155.19400000000002 x 195.58 cm
Box: 43.500'' X 34.000'' X 6.500'' / 110.49 x 16.51 x 86.36 cm
Weight: 127.13lb / 57.2085 kg
About the brand
South Shore Furniture offer furniture that adapts to today's families since they are created by parents. Always creating new convenient storage, this company never ceases to amaze us by its efficient storage as well as its advantageous prices. Whether it's for a small room, a work space, a play room or a bedroom for all ages, South Shore will meet your expectations.
FREE IN-STORE PICK UP
Free in-store pick up available in all Clement stores. Orders will be delivered in-store within 3 to 10 business days. Please wait until you received an email notification indicating that your order is available for pick up before going in-store.
Orders will be kept in store for one month. After that delay, the order will be cancelled and refunded.
SHIPPING TO CANADA
Free shipping on orders of $100 or more. For all other orders, a $7 flat rate shipping charge applies. Orders are shipped by Canada Post. A shipping confirmation with tracking number will be provided once your order has shipped.
Standard Shipping*
2-7 business days*
Expedited Shipping*
1-4 business days*
*Standard shipping not available in some areas. If applicable, additional charges may apply.
*Additional charges may apply. Not available in some areas.
*Transit times are subject to change and are not guaranteed.
Please note that some items may be shipped via another carrier.
SHIPPING TO THE UNITED STATES
20$ flat rate shipping on orders shipped to the United States. Orders will be delivered by USPS. A shipping confirmation with a tracking number will be provided once your order has shipped. The recipient is responsible for all import taxes, duties and/or customs fees if applicable.