NLL-NWDB-T / 1069174
Nellie's All-Natural
Lamby Wool Dryerballs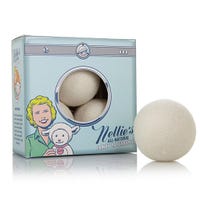 Lamby Wool Dryerballs
NLL-NWDB-T
1069174
$33.99
Step 1 - Verify the availability in store of this product Step 2
To ensure the availability of the product, make a 24h reservation in store or directly contact the store.
You will receive an answer by email within 3 business hours.
Thank you !
You will receive an answer by email within 3 business hours.
(After this time, check your junk mail or contact the selected store.)
Continue shopping
Nellie's dryer ball is made of 100% pure New Zealand wool. Toss 4 dryer balls into the dryer to reduce drying time, soften fabrics and reduce wrinkles. All without the use of any chemicals.

Features:
-Use all 4 wool dryer balls for shorten drying time
-100% natural
-Separate natural fabrics from synthetic fabrics to help reduce static
-Soft and silent
-Safe and natural fabric softener
-Reduce wrinkles
-Phthalate free
-Made of wool, they absorb water. This has the upside of reducing the drying time up of 25 to 30%
-For people who wants their laundry to smell great (which is often the main reason why they buy fabric softener), you can also add a few drops of essential oils to the balls as they are odourless
-They can also be used in the dryer to allow the duvet to return to its original form while drying
About the brand
All Nellie's products are biodegradable, keeping the environment as spotless as your clothes. The entire Nellie's line is free of harmful toxins, phosphates and synthetic fragrances. They take the bad stuff out, not put it in. Their products are HE machine-certified and made with no fillers. Best of all, they work!
FREE IN-STORE PICK UP
Free in-store pick up available in all Clement stores for orders over $30. A $5 handling fee applies for orders of less than $30. Orders will be delivered in-store within 3 to 10 business days. Please wait until you received an email notification indicating that your order is available for pick up before going in-store.
Orders will be kept in store for one month. After that delay, the order will be cancelled and refunded.
SHIPPING TO CANADA
Free shipping on orders of $100 or more. For all other orders, a $7 flat rate shipping charge applies. Orders are shipped by Canada Post. A shipping confirmation with tracking number will be provided once your order has shipped.
Standard Shipping*
2-7 business days*
Expedited Shipping*
1-4 business days*
*Standard shipping not available in some areas. If applicable, additional charges may apply.
*Additional charges may apply. Not available in some areas.
*Transit times are subject to change and are not guaranteed.
Please note that some items may be shipped via another carrier.
SHIPPING TO THE UNITED STATES
20$ flat rate shipping on orders shipped to the United States. Orders will be delivered by USPS. A shipping confirmation with a tracking number will be provided once your order has shipped. The recipient is responsible for all import taxes, duties and/or customs fees if applicable.
Exceptions: Furniture cannot be delivered outside of Canada.