LOC-674740001025 / 1071007
Lock Laces
Elastic No Tie Shoe Laces 48"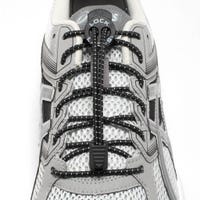 Elastic No Tie Shoe Laces 48"
LOC-674740001025
1071007
$11.99
Step 1 - Verify the availability in store of this product Step 2 - Fill out the form to request for a 24-hour in-store free reservation
Reserve in store and product availability service is currently unavailable.
Thank you !
You will receive an answer by email within 3 business hours.
(After this time, check your junk mail or contact the selected store.)
Continue shopping
If you're a parent, you know that morning "routines" are anything but. Every minute counts, and Lock Laces® will give you one less thing to worry about. And no more dirty dragging shoelaces!
Features:
-No-tie lacing system
-Stretch fit comfort
-Perfect for everyone
-Simple installation
-Each kit allows to tie a pair of shoes
About the brand
Born in 1997, Lock Laces first started as no tie lacing system for triathletes and runners who had to shave seconds of their transition times. It quickly became a new trend and a new way of tying our shoes since it is also the easiest and fastest way to do so.
FREE IN-STORE PICK UP
Free in-store pick up available in all Clement stores. Orders will be delivered in-store within 3 to 10 business days. Please wait until you received an email notification indicating that your order is available for pick up before going in-store.
Orders will be kept in store for one month. After that delay, the order will be cancelled and refunded.
SHIPPING TO CANADA
Free shipping on orders of $100 or more. For all other orders, a $7 flat rate shipping charge applies. Orders are shipped by Canada Post. A shipping confirmation with tracking number will be provided once your order has shipped.
Standard Shipping*
2-7 business days*
Expedited Shipping*
1-4 business days*
*Standard shipping not available in some areas. If applicable, additional charges may apply.
*Additional charges may apply. Not available in some areas.
*Transit times are subject to change and are not guaranteed.
Please note that some items may be shipped via another carrier.
SHIPPING TO THE UNITED STATES
20$ flat rate shipping on orders shipped to the United States. Orders will be delivered by USPS. A shipping confirmation with a tracking number will be provided once your order has shipped. The recipient is responsible for all import taxes, duties and/or customs fees if applicable.