JNJ-SFB / 1078231
Jack N' Jill
Jack N' Jill Silicon Finger Tooth Brush (2)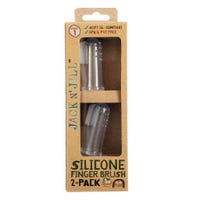 Jack N' Jill Silicon Finger Tooth Brush (2)
JNJ-SFB
1078231
$9.95
Step 1 - Verify the availability in store of this product Step 2
In-store availability and reservation are not available for that product. Please add to cart, complete an online order and select ship to store to purchase this product.
Thank you !
You will receive an answer by email within 3 business hours.
(After this time, check your junk mail or contact the selected store.)
Continue shopping
Features:
-Made from 100% medical/food grade silicone
-Designed for a simple and effective start to good oral hygiene
-Easy to use, gentle on gums, non-toxic and BPA free
-Suitable for use with Jack N' Jill Natural Toothpaste
-Convenient for traveling
-Double-sided: use the "brush" side for gentle cleaning of baby's teeth. Use the "dimple" side to massage the gums – ideal for teething gums.
*Tip: Always make sure your Jack N' Jill Silicone Finger Brush is clean. Wash in warm soapy water. Safe to sterilize. Store in a clean container. Of course, only to be used by an adult on baby/child. This is not a pacifier or teether. Not chewable! Discard immediately if torn/damaged.
About the brand
Jack N' Jill products provide natural oral care for babies, toddlers and children. They were first made in Melbourne, Australia in 1949 and have been a family business for over 20 years. They continue to be made in Australia and are now available in over 30 countries. With a background in pharmacy, Jack N' Jill set out to formulate the safest products for their children and yours.
FREE IN-STORE PICK UP
Free in-store pick up available in all Clement stores for orders over $30. A $5 handling fee applies for orders of less than $30. Orders will be delivered in-store within 3 to 10 business days. Please wait until you received an email notification indicating that your order is available for pick up before going in-store.
Orders will be kept in store for one month. After that delay, the order will be cancelled and refunded.
SHIPPING TO CANADA
Free shipping on orders of $100 or more. For all other orders, a $7 flat rate shipping charge applies. Orders are shipped by Canada Post. A shipping confirmation with tracking number will be provided once your order has shipped.
Standard Shipping*
2-7 business days*
Expedited Shipping*
1-4 business days*
*Standard shipping not available in some areas. If applicable, additional charges may apply.
*Additional charges may apply. Not available in some areas.
*Transit times are subject to change and are not guaranteed.
Please note that some items may be shipped via another carrier.
SHIPPING TO THE UNITED STATES
20$ flat rate shipping on orders shipped to the United States. Orders will be delivered by USPS. A shipping confirmation with a tracking number will be provided once your order has shipped. The recipient is responsible for all import taxes, duties and/or customs fees if applicable.
Exceptions: Furniture cannot be delivered outside of Canada.