BHI-SEMELLE5-13 / BHI-SEMELLE5-13
Baby Chou
Insole Foot Warmer Sizes 5-13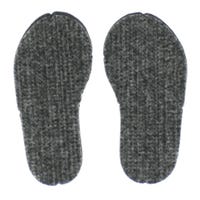 Insole Foot Warmer Sizes 5-13
BHI-SEMELLE5-13
BHI-SEMELLE5-13
$5.99
Step 1 - Verify the availability in store of this product Step 2
In-store availability and reservation are not available for that product. Please add to cart, complete an online order and select ship to store to purchase this product.
Thank you !
You will receive an answer by email within 3 business hours.
(After this time, check your junk mail or contact the selected store.)
Continue shopping
The insulation system combines a micro-perforated felt fabric footbed with a reflective metallized layer. This allows for both heat retention and moisture management, keeping feet warm and comfortable.

Features:
-They are perfect for fall in a rain boot or a mid-season boot
-They retain the warmth as well as keeping the feet from moisture
-For an optimal effect in a winter boot, the insole must be placed between the sole of the boot and the inner boot. This adds another layer of protection against the cold and the humidity.
-It can also be put in the inner boot to add more adjustment
-The same insole can be used in multiple kind of boots
About the brand
100% Canadian shoes! Are you looking for quality shoes that offer your child great comfort? Baby Chou shoes are designed and manufactured in Canada. They are made of premium materials and a touch of originality.
FREE IN-STORE PICK UP
Free in-store pick up available in all Clement stores for orders over $30. A $5 handling fee applies for orders of less than $30. Orders will be delivered in-store within 3 to 10 business days. Please wait until you received an email notification indicating that your order is available for pick up before going in-store.
Orders will be kept in store for one month. After that delay, the order will be cancelled and refunded.
SHIPPING TO CANADA
Free shipping on orders of $100 or more. For all other orders, a $7 flat rate shipping charge applies. Orders are shipped by Canada Post. A shipping confirmation with tracking number will be provided once your order has shipped.
Standard Shipping*
2-7 business days*
Expedited Shipping*
1-4 business days*
*Standard shipping not available in some areas. If applicable, additional charges may apply.
*Additional charges may apply. Not available in some areas.
*Transit times are subject to change and are not guaranteed.
Please note that some items may be shipped via another carrier.
SHIPPING TO THE UNITED STATES
20$ flat rate shipping on orders shipped to the United States. Orders will be delivered by USPS. A shipping confirmation with a tracking number will be provided once your order has shipped. The recipient is responsible for all import taxes, duties and/or customs fees if applicable.
Exceptions: Furniture cannot be delivered outside of Canada.