JAJ-SKG-PDS-1 / JAJ-SKG-PDS-1
Jan & Jul
Graphic Knit Shoes Sizes 5-8
FINAL SALE - NO RETURN
FINAL SALE : No exchange or refund.
Graphic Knit Shoes Sizes 5-8
JAJ-SKG-PDS-1
JAJ-SKG-PDS-1
$0.00
Step 1 - Verify the availability in store of this product Step 2
In-store availability and reservation are not available for that product. Please add to cart, complete an online order and select ship to store to purchase this product.
Thank you !
You will receive an answer by email within 3 business hours.
(After this time, check your junk mail or contact the selected store.)
Continue shopping
Features:
-Light & Soft-soled: specifically designed for little toddler feet and made with advanced light-weight material (TPR, EVA)
-Sweat Free: superb air circulation is achieved with air-ventilated insole and perforated knit shoe design
-Easy Slip-on & Stay-on: achieved with elastic ankle openings
-Extra Toe Protection: for kids all-terrain play
-Machine Washable: removable insole for easy cleaning
-During the summer heat, this shoe outshines the rest!
-Air-cushioned & cotton-lined EVA insoles offer extra breathability from underneath and provide shock absorbent comfort
-Designed with kids' safety in mind, non-slip TPR sole provides excellent grip with extra toe cap in front to protect little toes against wood chips, dirt and rocks
-Elastic opening around the ankle offers easy slip-on even for babies and toddlers' chubby feet while the non-elastic knit gives feet a stable support
-Ultra-lightweight and breathable
About the brand
At Jan & Jul, they want your kids to get outside and play no matter what the weather! Their clothing is for active on-the-go explorers and nature loving kids.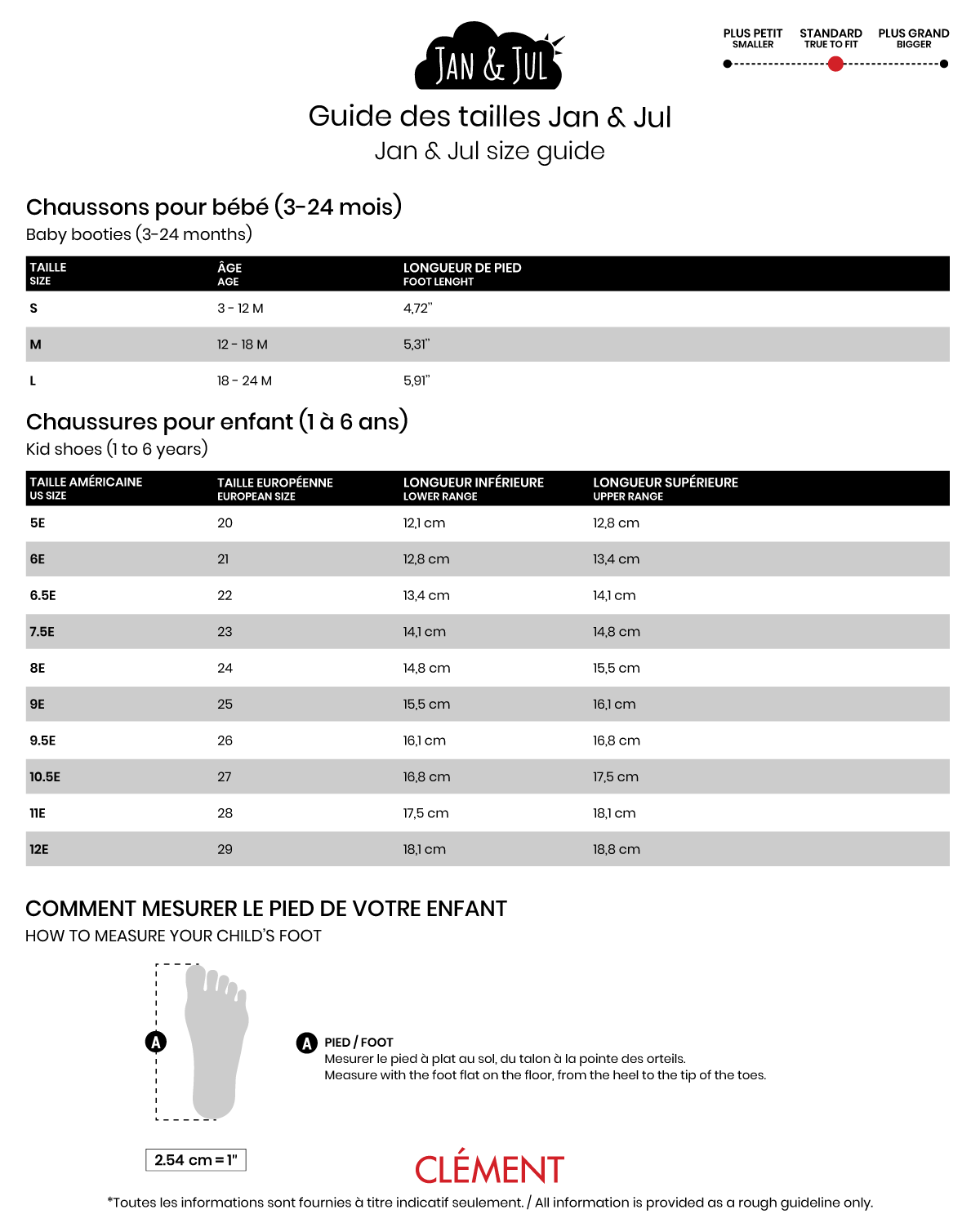 This item is subject to some delivery restrictions
FREE IN-STORE PICK UP
This item is not available for in-store pick up.
SHIPPING TO CANADA
$7 flat rate shipping charge applies. Orders are shipped by Canada Post. A shipping confirmation with tracking number will be provided once your order has shipped.
Standard Shipping*
3-10 business days*
Expedited Shipping*
1-4 business days*
*Standard shipping not available in some areas. If applicable, additional charges may apply.
*Additional charges may apply. Not available in some areas.
*Transit times are subject to change and are not guaranteed.
Please note that some items may be shipped via another carrier.
SHIPPING TO THE UNITED STATES
20$ flat rate shipping applies for orders shipped to the United States. Orders will be delivered by USPS. A shipping confirmation with a tracking number will be provided once your order has shipped. The recipient is responsible for all import taxes, duties and/or customs fees if applicable.