TUL-TBCA6G79 / 1071729
Tula
Explore Baby Carrier - Sleepy Dust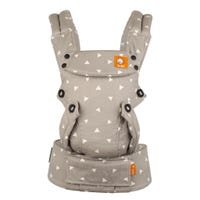 Explore Baby Carrier - Sleepy Dust
TUL-TBCA6G79
1071729
$233.92
Step 1 - Verify the availability in store of this product Step 2
In-store availability and reservation are not available for that product. Please add to cart, complete an online order and select ship to store to purchase this product.
Thank you !
You will receive an answer by email within 3 business hours.
(After this time, check your junk mail or contact the selected store.)
Continue shopping
Features:
-Stylish design and prints
-Stay cool mesh carrier panel
-Large mesh panel provides extra ventilation for optimal breathability to keep wearer and baby cool
-Every carry position your baby will need, including facing out
-Multiple positions to carry baby including front facing out, facing in, and back carry. Each position provides a natural, ergonomic position best for comfortable carrying that promotes healthy hip and spine development for baby
-No bulk, innovative body panel with an easy-to-adjust design
-djusts in width to find a perfect fit as baby grows from newborn to early toddlerhood
-Can be used from 7 to 45 pounds, no infant insert required
-Padding where needed for extra comfort
-Padded shoulder straps provide optimal neck & shoulder comfort and offers quick adjustments for multiple wearers. Wide padded waistband helps evenly distribute weight. Padded leg openings to keep baby comfortable

Measurements:
-Depending on the snap setting, the seat panel width is adjustable from 5" - 15"
-Depending on the neck pillow placement, the height of the panel is 13.5" tall when the pillow is snapped down and 17" when snapped up
-Hip Belt Measures 5" tall and 27" wide. Additional webbing extends approximately 30" (waistband total of ~ 57" long)
Weight of the carrier: 1.7 lbs
About the brand
Tula's mission is to promote babywearing worldwide through quality products, education, and community outreach in order to form a more perfect union between parent and child.
FREE IN-STORE PICK UP
Free in-store pick up available in all Clement stores for orders over $30. A $5 handling fee applies for orders of less than $30. Orders will be delivered in-store within 3 to 10 business days. Please wait until you received an email notification indicating that your order is available for pick up before going in-store.
Orders will be kept in store for one month. After that delay, the order will be cancelled and refunded.
SHIPPING TO CANADA
Free shipping on orders of $100 or more. For all other orders, a $7 flat rate shipping charge applies. Orders are shipped by Canada Post. A shipping confirmation with tracking number will be provided once your order has shipped.
Standard Shipping*
2-7 business days*
Expedited Shipping*
1-4 business days*
*Standard shipping not available in some areas. If applicable, additional charges may apply.
*Additional charges may apply. Not available in some areas.
*Transit times are subject to change and are not guaranteed.
Please note that some items may be shipped via another carrier.
SHIPPING TO THE UNITED STATES
20$ flat rate shipping on orders shipped to the United States. Orders will be delivered by USPS. A shipping confirmation with a tracking number will be provided once your order has shipped. The recipient is responsible for all import taxes, duties and/or customs fees if applicable.
Exceptions: Furniture cannot be delivered outside of Canada.