NEW-241 / 1071768
Nikwax
Waterproofing Down Proof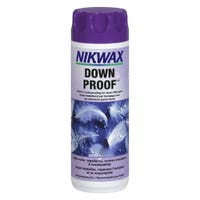 Waterproofing Down Proof
NEW-241
1071768
$19.99
Step 1 - Verify the availability in store of this product Step 2
In-store availability and reservation are not available for that product. Please add to cart, complete an online order and select ship to store to purchase this product.
Thank you !
You will receive an answer by email within 3 business hours.
(After this time, check your junk mail or contact the selected store.)
Continue shopping
Features:
-Specifically designed and optimised for down filled gear
-It adds Durable Water Repellency (DWR), which protects against rain and condensation, improving the natural insulating properties of down.
-Prolongs the effective life of your down gear
-Leaves a flexible water repellent treatment on individual down filaments and fabric fibres allowing moisture vapour to pass through, maintaining breathability and optimising performance in cold and damp conditions.
-Quick to apply in a washing machine and ensures that the treatment goes right through the item, treating both the outer fabric and the down fill
-The DWR of Nikwax Down Proof™ develops on air drying. However, tumble drying is recommended to ensure that the down is dried thoroughly and as quickly as possible. Leaving down wet or damp can ruin it completely
-WaterBased, non-aerosol, non-flammable, non-hazardous and environmentally friendly. They contain no harmful solvents or volatile organic compounds (VOCs), and are completely free of fluorocarbons
FREE IN-STORE PICK UP
Free in-store pick up available in all Clement stores for orders over $30. A $5 handling fee applies for orders of less than $30. Orders will be delivered in-store within 3 to 10 business days. Please wait until you received an email notification indicating that your order is available for pick up before going in-store.
Orders will be kept in store for one month. After that delay, the order will be cancelled and refunded.
SHIPPING TO CANADA
Free shipping on orders of $100 or more. For all other orders, a $7 flat rate shipping charge applies. Orders are shipped by Canada Post. A shipping confirmation with tracking number will be provided once your order has shipped.
Standard Shipping*
2-7 business days*
Expedited Shipping*
1-4 business days*
*Standard shipping not available in some areas. If applicable, additional charges may apply.
*Additional charges may apply. Not available in some areas.
*Transit times are subject to change and are not guaranteed.
Please note that some items may be shipped via another carrier.
SHIPPING TO THE UNITED STATES
20$ flat rate shipping on orders shipped to the United States. Orders will be delivered by USPS. A shipping confirmation with a tracking number will be provided once your order has shipped. The recipient is responsible for all import taxes, duties and/or customs fees if applicable.
Exceptions: Furniture cannot be delivered outside of Canada.