ME2-101029244 / 1054128
Medela
Disposable Nursing Pads (60)
FINAL SALE - NO RETURN
FINAL SALE : No exchange or refund.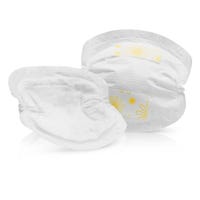 Disposable Nursing Pads (60)
ME2-101029244
1054128
$10.99
Step 1 - Verify the availability in store of this product Step 2
In-store availability and reservation are not available for that product. Please add to cart, complete an online order and select ship to store to purchase this product.
Thank you !
You will receive an answer by email within 3 business hours.
(After this time, check your junk mail or contact the selected store.)
Continue shopping
Stay dry, comfortable and confident with disposable nursing pads from Medela. They were designed to provide a more beneficial option with the use of fewer pads for moms who need them most. Combining excellent absorbency and leak protection with comfort and discretion, these nursing pads can be used day or night to protect clothes, sheets and bras from unexpected leaks. Made from ultra-soft materials for exceptional comfort, the nursing pads feature a double adhesive backing that ensures they stay in place for as long as you need them. Stay dry, comfortable and confident whether at home, at work, on the road or on the go.
Included
(60) individually wrapped disposable breast pads
About the brand
Discover the Medela company, that constantly innovates to offer mothers functional, safe and comfortable breastfeeding products so that they can enjoy everyday life with their baby.
This item is subject to some delivery restrictions
FREE IN-STORE PICK UP
This item is not available for in-store pick up.
SHIPPING TO CANADA
$7 flat rate shipping charge applies. Orders are shipped by Canada Post. A shipping confirmation with tracking number will be provided once your order has shipped.
Standard Shipping*
3-10 business days*
Expedited Shipping*
1-4 business days*
*Standard shipping not available in some areas. If applicable, additional charges may apply.
*Additional charges may apply. Not available in some areas.
*Transit times are subject to change and are not guaranteed.
Please note that some items may be shipped via another carrier.
SHIPPING TO THE UNITED STATES
20$ flat rate shipping applies for orders shipped to the United States. Orders will be delivered by USPS. A shipping confirmation with a tracking number will be provided once your order has shipped. The recipient is responsible for all import taxes, duties and/or customs fees if applicable.