COL-1544101-010 / COL-1544101-010
Columbia
Cypress Brook™ II Pant 6-16yr
FINAL SALE - NO RETURN
FINAL SALE : No exchange or refund.
Cypress Brook™ II Pant 6-16yr
COL-1544101-010
COL-1544101-010
$0.00
Step 1 - Verify the availability in store of this product Step 2
In-store availability and reservation are not available for that product. Please add to cart, complete an online order and select ship to store to purchase this product.
Thank you !
You will receive an answer by email within 3 business hours.
(After this time, check your junk mail or contact the selected store.)
Continue shopping
Pull on this lightweight nylon rain pant when dark skies threaten, and then easily remove it when the sun returns—it provides critically seam sealed, waterproof protection from the elements, with an easy-wearing elastic waist and an adjustable tab at each cuff for a versatile fit.
Features:
-Critically seam sealed
-Waterproof
-Elastic at waist

Fabric: 100% nylon
About the brand
A family business with a passion for the outdoors, Columbia offers a wide selection of functional outdoor clothing such as coats and snowsuits for children from birth to 14 years of age. Their products are designed to keep children warm or cool, but always dry and protected from the elements throughout the year. Make sure your kids are equipped to stay outside by opting for Columbia!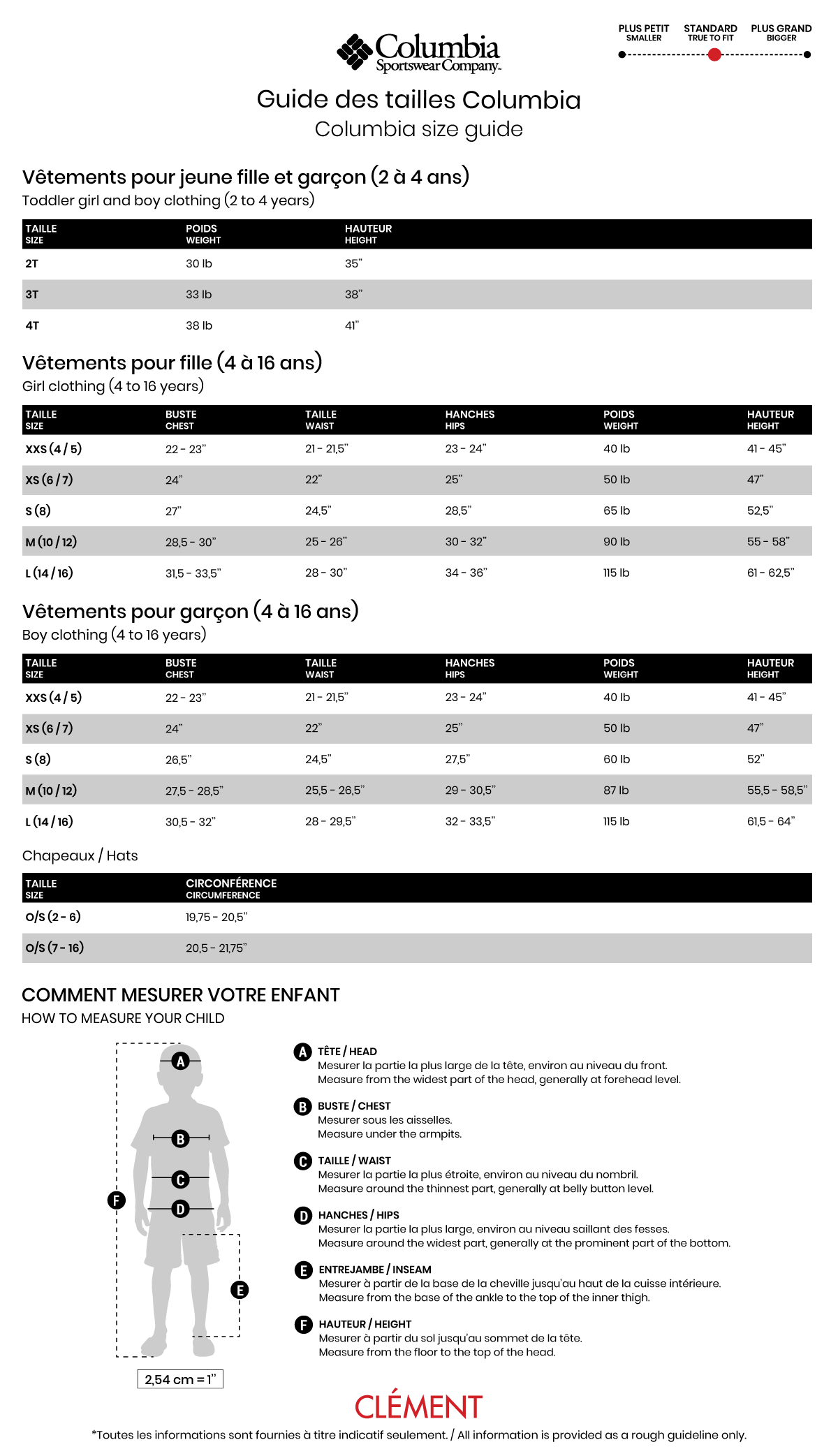 This item is subject to some delivery restrictions
FREE IN-STORE PICK UP
This item is not available for in-store pick up.
SHIPPING TO CANADA
$7 flat rate shipping charge applies. Orders are shipped by Canada Post. A shipping confirmation with tracking number will be provided once your order has shipped.
Standard Shipping*
3-10 business days*
Expedited Shipping*
1-4 business days*
*Standard shipping not available in some areas. If applicable, additional charges may apply.
*Additional charges may apply. Not available in some areas.
*Transit times are subject to change and are not guaranteed.
Please note that some items may be shipped via another carrier.
SHIPPING TO THE UNITED STATES
20$ flat rate shipping applies for orders shipped to the United States. Orders will be delivered by USPS. A shipping confirmation with a tracking number will be provided once your order has shipped. The recipient is responsible for all import taxes, duties and/or customs fees if applicable.