BMV-A050417 / 1069740
Babymoov
Cozydream Cushion Plus - Smokey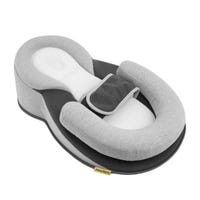 Cozydream Cushion Plus - Smokey
BMV-A050417
1069740
$99.99
Step 1 - Verify the availability in store of this product Step 2
To ensure the availability of the product, make a 24h reservation in store or directly contact the store.
You will receive an answer by email within 3 business hours.
Thank you !
You will receive an answer by email within 3 business hours.
(After this time, check your junk mail or contact the selected store.)
Continue shopping
Features: 
-Offers a perfect position for baby to facilitate digestion. 
-Thanks to its inclined plane of 15%, the airways are perfectly clear. 
-The shape memory foam adapts to the morphology of the infant in dorsal position. 
-The integrated headrest is ideal for baby to keep a round head. 
-Modular positioning roller in microbeads ensures a perfect support of the back and raises the legs of baby. 
-This position reassures baby and allows him to sleep serenely
-Its ultra soft materials and fleece edges guarantee optimal comfort. 
-The seat belt keeps baby on the back and prevents it from slipping. 
-From birth until 3 months
* No longer use from the moment baby turns alone
Fabric of the mattress:
Heather gray: 65% cotton & 35% polyester 
Fabric gripping and 3D mesh: 100% polyester. 
Bias: 92% cotton & 8% elastane. 
Padding: 100% polyurethane foam.
Fabric of the positioning roller: 
Heather gray: 65% cotton & 35% polyester. 
Padding: micro beads 100% polystyrene. 
Care: Surface washable mattress with a damp cloth. 
Positioning roller is machine washable at 30 °.
About the brand
Simplify and improve your parenting life with Babymoov's innovative and highquality products, such as its famous ergonomic pillows for moms and babies, its outdoor toddler tents, kitchen and food products, monitors, diaper bags and more. This company only wants one thing; that you spend great moments with your children and with peace of mind. Whether it's choosing a healthy diet, monitoring and improving the quality of the air or for optimal comfort while sleeping, this company will make your life easier.
FREE IN-STORE PICK UP
Free in-store pick up available in all Clement stores for orders over $30. A $5 handling fee applies for orders of less than $30. Orders will be delivered in-store within 3 to 10 business days. Please wait until you received an email notification indicating that your order is available for pick up before going in-store.
Orders will be kept in store for one month. After that delay, the order will be cancelled and refunded.
SHIPPING TO CANADA
Free shipping on orders of $100 or more. For all other orders, a $7 flat rate shipping charge applies. Orders are shipped by Canada Post. A shipping confirmation with tracking number will be provided once your order has shipped.
Standard Shipping*
2-7 business days*
Expedited Shipping*
1-4 business days*
*Standard shipping not available in some areas. If applicable, additional charges may apply.
*Additional charges may apply. Not available in some areas.
*Transit times are subject to change and are not guaranteed.
Please note that some items may be shipped via another carrier.
SHIPPING TO THE UNITED STATES
20$ flat rate shipping on orders shipped to the United States. Orders will be delivered by USPS. A shipping confirmation with a tracking number will be provided once your order has shipped. The recipient is responsible for all import taxes, duties and/or customs fees if applicable.
Exceptions: Furniture cannot be delivered outside of Canada.