DOM-R15329001 / DOM-R15329001
Dr. Martens
Crib Shoe Auburn Lamper Sizes 1-4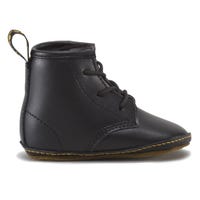 Crib Shoe Auburn Lamper Sizes 1-4
DOM-R15329001
DOM-R15329001
$54.99
Step 1 - Verify the availability in store of this product Step 2 - Fill out the form to request for a 24-hour in-store free reservation
Reserve in store and product availability service is currently unavailable.
Thank you !
You will receive an answer by email within 3 business hours.
(After this time, check your junk mail or contact the selected store.)
Continue shopping
Rebels aren't made. They're born. Inspired by the classic Dr. Martens 1460 boot, the Newborn Crib Lace Bootie is for the tiniest rebels, complete with yellow stitch, black binding and a fabric heel loop—all in super-soft lightweight Kid Lamper leather. 
Features : 
-Infant boots feature the famous Dr. Martens tread
-Stringent testing procedures have been used to ensure that the Auburn is suitably supportive for an infant
-US Kids 1 (0-3 months), US Kids 2 (3-6 months), US Kids 3 (6-9 months), US Kids 4 (9-12 months)
-Lacing system
Fabric : Shell : 100% leather
About the brand
Known internationally, this British company started in the United Kingdom in the 60'. Dr. Martens stands out with its classic boots details like the Goodyear method insole, the grooved edges on an air-cushioned sole, the yellow stitching and the scripted heel loop. Dr. Martens' appeal to people who have their own individual style but share a united spirit. A way to share the difference with unity.
FREE IN-STORE PICK UP
Free in-store pick up available in all Clement stores. Orders will be delivered in-store within 3 to 10 business days. Please wait until you received an email notification indicating that your order is available for pick up before going in-store.
Orders will be kept in store for one month. After that delay, the order will be cancelled and refunded.
SHIPPING TO CANADA
Free shipping on orders of $100 or more. For all other orders, a $7 flat rate shipping charge applies. Orders are shipped by Canada Post. A shipping confirmation with tracking number will be provided once your order has shipped.
Standard Shipping*
2-7 business days*
Expedited Shipping*
1-4 business days*
*Standard shipping not available in some areas. If applicable, additional charges may apply.
*Additional charges may apply. Not available in some areas.
*Transit times are subject to change and are not guaranteed.
Please note that some items may be shipped via another carrier.
SHIPPING TO THE UNITED STATES
20$ flat rate shipping on orders shipped to the United States. Orders will be delivered by USPS. A shipping confirmation with a tracking number will be provided once your order has shipped. The recipient is responsible for all import taxes, duties and/or customs fees if applicable.