EG -9000C5101003 / 1069190
Dutailier
Crib Lollipop - White/Natural
- Only in-store delivery is available for this product.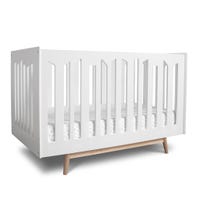 Crib Lollipop - White/Natural
EG -9000C5101003
1069190
$1,278.99
Step 1 - Verify the availability in store of this product Step 2
To ensure the availability of the product, make a 24h reservation in store or directly contact the store.
You will receive an answer by email within 3 business hours.
Thank you !
You will receive an answer by email within 3 business hours.
(After this time, check your junk mail or contact the selected store.)
Continue shopping
The Lollipop crib is designed to provide peaceful and comforting nights for your baby. Its 4-in-1 evolutive design is unique ; its one of the first cribs to convert to both single bed (conversion kit included) and double bed (conversion kit sold separately).
Caractéristiques:
-Can convert into a daybed, a single bed (conversion kit 1069192 included) and in a double bed (Conersion kit 1069193 sold separately)
-Clean design with four open sides
-Adjustable bed base with two height settings
-Meets ASTM and JPMA standards
-Construction laminated birch plywood
-Entirely made out of wood from sustainable managed forests (FSC)
-Made in Canada by skilled craftsmen
To convert into a daybed, remove the front end of the bed. You can use this bed barrier to add security
1060600
for 45$
To convert into s simple bed, use trails 
1069192
 for 119,97$ (free when you buy the bassinet)
To convert into a double bed, use trails 1069193 (sold separatly)
Size: 
Bassinet :54" x 30" x 35" / 136 x 78 x 89 cm
Box : 55" x 37" x 7'' / 139cm x 94cm x 18 cm
Weigth : 112lb / 50.8kg
*It is possible to go in store to chose many other colors and make a special order
About the brand
Dutailier offers wooden rocking chairs, upholstered chairs, and youthful furnishings designed and manufactured in Canada. Dutailier has kept its promise of quality for nearly 40 years with the care taken in the choice of its raw materials.
This item is subject to some delivery restrictions.
FREE IN-STORE PICK UP
Free in-store pick up available in all Clément stores. Orders will be delivered in-store within 3 to 10 business days following the date of purchase. Please wait until you have received an email notification indicating that your order is available for pick up at the selected location before going in-store.
Orders will be kept at your selected location for one month after which the order will be cancelled and refunded if not picked-up by the customer.
SHIPPING TO CANADA
This item is not available for delivery to Canada.
SHIPPING TO THE UNITED STATES
This item is not available for delivery to the United States.