SNM-L2227COAST / 1072054
Snuggle me
Bare Snuggle Me Organic - Coast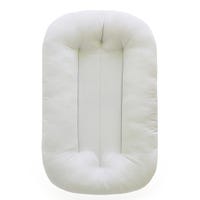 Bare Snuggle Me Organic - Coast
SNM-L2227COAST
1072054
$149.99
Step 1 - Verify the availability in store of this product Step 2 - Fill out the form to request for a 24-hour in-store free reservation
To ensure the availability of the product, make a 24h reservation in store or directly contact the store.
You will receive an answer by email within 3 business hours.
Thank you !
You will receive an answer by email within 3 business hours.
(After this time, check your junk mail or contact the selected store.)
Continue shopping
The Snuggle Me Organic Sensory Lounger for Baby is designed to curve around baby's back while pulling in around them to hug. This hugging sensation is comforting and highly effective at calming baby.  Use your Snuggle Me for lounging, supervised rest, tummy time and more.
Features:
-Designed for babies aged between 0 and 9 months approximately (maximum age reached when the baby's buttocks touch the end of the central area)
- Keeps baby naturally in place
-The center fits on the sides to hug baby
-Material comfortable, warm, breathable
-Hypo allergen polyester fiber padding
-Do you recommend a cover? Even though you can use the Snuggle Me Organic without a cover, it is very convenient to have a cover on hand. Washing a cover is significantly easier than washing the entire lounger. Having a cover reduces the amount of wear and number of times the lounger will need to be washed. *Cover sold separately 
Fabric: Made of certified organic cotton GOTS that helps preserve the environment of baby.
Size: 29 x 17 x 4 inches
Warning: The Snuggle Me's design helps prevent baby from rolling, but never leave baby unattended in this on. The Snuggle Me is a huge support tool for parents and provides an extra set of arms during the day when parents need to lay their baby down. It is important to be in the same room and supervising your baby when using the Snuggle Me. During the night, use safe crib practices and do not use your lounger in, or in place of a crib.
Never leave baby unsupervised
Never use in a crib or other sleep device
Never place on soft or uneven surfaces
Baby loungers should not be used as co sleeping devices due to the padded sides
The safest place for a baby to sleep overnight is in a crib with a fitted sheet
About the brand
Staying true to THEIR beginning, Snuggle Me continue to employ local Minnesota sewers to craft each and every Snuggle Me Organic with care.They select USA made fabrics under the regulations of the CPSIA, which have the strictest regulations on fabric manufacturing in the world. The highest standard in the world, their fabrics are certified to be organic, non-toxic, hypoallergenic and free from all harmful chemicals. Unlike others, the Snuggle Me™ is a patented sensory lounger designed to pull in and hug baby, giving them the feeling of being held and touched.
FREE IN-STORE PICK UP
Free in-store pick up available in all Clement stores. Orders will be delivered in-store within 3 to 10 business days. Please wait until you received an email notification indicating that your order is available for pick up before going in-store.
Orders will be kept in store for one month. After that delay, the order will be cancelled and refunded.
SHIPPING TO CANADA
Free shipping on orders of $100 or more. For all other orders, a $7 flat rate shipping charge applies. Orders are shipped by Canada Post. A shipping confirmation with tracking number will be provided once your order has shipped.
Standard Shipping*
2-7 business days*
Expedited Shipping*
1-4 business days*
*Standard shipping not available in some areas. If applicable, additional charges may apply.
*Additional charges may apply. Not available in some areas.
*Transit times are subject to change and are not guaranteed.
Please note that some items may be shipped via another carrier.
SHIPPING TO THE UNITED STATES
20$ flat rate shipping on orders shipped to the United States. Orders will be delivered by USPS. A shipping confirmation with a tracking number will be provided once your order has shipped. The recipient is responsible for all import taxes, duties and/or customs fees if applicable.