ONLINE PURCHASES
Delivery
Standard delivery across Canada is available for clothing and accessories orders of $75 or more (before taxes). Shipping costs are calculated and displayed in the shopping cart. A confirmation email and tracking number will be sent when the order is shipped. For more information on delivery, see the page shipping.
Online reservation
Product reservations are available in some stores and payment with invoice is made at the store. Check product availability on each product page to determine if the reservation is available.
RETURNS
Return in new condition
Any return of merchandise must be in its original packaging, with labels in new condition for any exchange or price adjustment. For special order items, these items are final sales and cannot be exchanged or refunded. Items marked as final sale (or 50% off or more) cannot be exchanged or refunded. Hygienic products, special orders, assembled furniture, underwear and items labelled final sale have return limitations and CLÉMENT reserves the right to refuse any exchange or return of those items. For any other product, the deadlines for exchange, refund or price adjustment are 10 days for items on sale and 15 days for items at regular price on physical presentation of the item in new original condition including packaging with labels. Full details on returns and exchanges.
Online availability
Products on clement.ca are typically in stock. The website reflects the availability of the products at the time of the most recent inventory update. CLÉMENT is not responsible for inventory issues associated with a delay in inventory verification. In the event of such a situation, we undertake to identify the items to be credited on the order and issue a refund as soon as possible. Additionally, please note that a product available on clement.ca may not be available in stores.
Cancel or modify an order
Orders placed on clement.ca cannot be modified. It is only possible to cancel a recent order if it is pending at the web order fulfillment center. To inform us that you wish to cancel the full order, please communicate the request via email at clientele@clement.qc.ca or via phone at 1-888-997-4789 in best delay. For more information on returns, see the page refunds and exchanges. Clement reserves the right to cancel any order. Purchases on clement.ca are not intended for resale.
Clement reserves the right to cancel orders with reimbursement that have out of stock items, suspicion of credit card fraud or any other reason. In the event the fraud detection software detects an abnormal order and it is cancelled as a result, the only remaining option is to re-order and pick up the item in store with a photo ID that has a matching billing address as well as the original card used for payment.
WARRANTIES
The warranty applies once per item on the initial purchase and covers manufacturing defects. The warranty does not cover: damage caused by an accident; poor maintenance, neglect; normal wear.
Warranties on snowsuits
Snowsuits tears or defects caused by the manufacturing company are guaranteed for the duration of the current season. Only the manufacturer's defects are covered by this warranty and CLÉMENT reserves the discretionary right not to honor this policy if the defect is not deemed to be one caused by the manufacturer. No refunds will be made for damaged snow suits purchased in previous seasons.
Warranty on baby items
The following warranties are honored directly by our manufacturers (contact information provided below):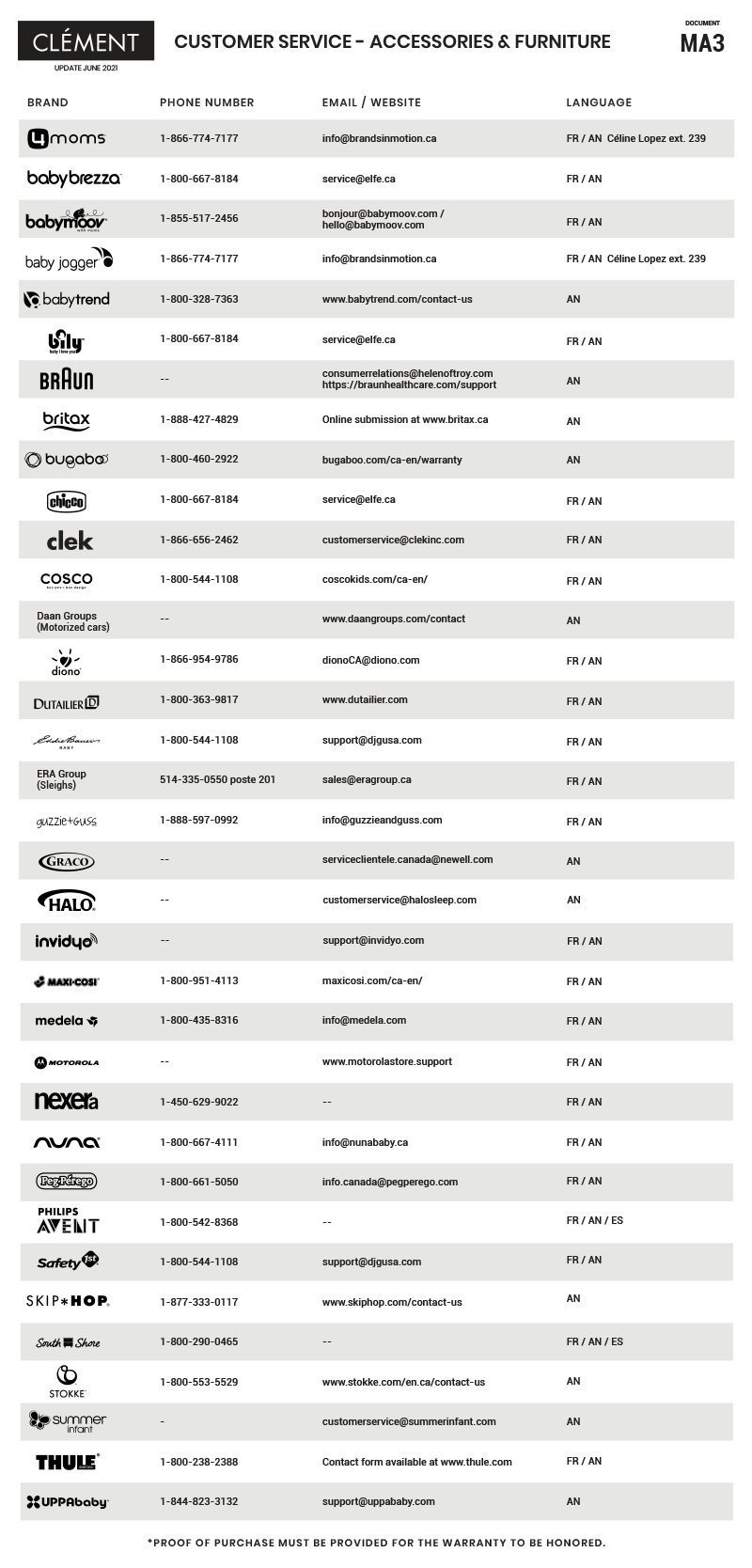 FURNITURE
Furniture delivery
Furniture delivery may be available depending on items and regions. Rates will vary based on delivery location. Clément does not offer furniture assembly service and reserves the right to refuse delivery.
PROMOTIONS AND EXEMPTIONS
Price adjustments
Items reduced by 30% and more are not eligible for price adjustments. CLÉMENT offers price adjustment only if an item has been reduced in price within 10 days following your purchase, with original receipt and for a promotion offered at Clément only. You can obtain a price adjustment in any of our stores, as long as the item is in perfect condition, in its original packaging, and presented with the original receipt. CLÉMENT reserves the right to exclude certain items from this policy. This policy can only be applied once per product.
Products labelled as final sale cannot be returned or exchanged. Items reduced by 50% or more are considered final sale.
Any hygienic products such as maternity underwear, creams, masks or other categories of products cannot be returned or exchanged. All products for return must be new in their original packaging with tags and will be inspected. Clément reserves the right to refuse any return or exchange.
Price modification
Special prices are subject to modification without notice. The special prices can change on the product listing, catalog list or in cart at any point in time and are not guaranteed until order has been completed to latest step (payment accepted by financial institution).
Final sale and special orders
Items reduced by 50% and more, special orders, labels and demo furniture are final sale and cannot be returned or exchanged.
"2 for X" promos
All promotions, whether in-store or online, cannot be combined to other promotions providing additional discounts. Promos of the "2 for $X" type will only work within the same category of products.
Twins or triplets program
Parents of twins or triplets will obtain a discount of 20% for twins and 30% for triplets on regular priced clothing, as well as 5% on regular priced maternity clothes & accessories, shoes, furniture and accessories upon subscription to our twins and triplets program. These privilege discounts are valid for a period of 2 years and are to be used solely by the parents of the twins or triplets. Any violation of this policy will result in a removal of the privilege on the fraudulent account without possibility of reactivating the discount. CLÉMENT reserves the right to refuse to apply the discount at any time in case of suspected fraud or abuse. Discounts cannot be combined with any other offers or deals. However, in the event an ongoing offer is more advantageous, the offer most beneficial to the customer will be applied.
To qualify for this program, new parents must apply directly at one of our locations, with supporting evidence.
Tax exemptions for Indigenous peoples
Indigenous individuals can claim a tax exemption for a purchase delivered on a reserve(in their name) provided they present their Certificate of Indian Status card. For web orders, card must be provided in electronic format.