LBT-CHARLOTTEBRU / 1071317
Lambert
Charlotte Backpack - Brunette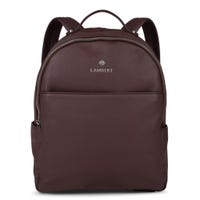 Charlotte Backpack - Brunette
LBT-CHARLOTTEBRU
1071317
$139.92
Step 1 - Verify the availability in store of this product Step 2 - Fill out the form to request for a 24-hour in-store free reservation
Reserve in store and product availability service is currently unavailable.
Thank you !
You will receive an answer by email within 3 business hours.
(After this time, check your junk mail or contact the selected store.)
Continue shopping
Thanks to its colour that gives that touch of elegance to your outfit, whatever the occasion, this women's faux leather backpack is the perfect complement to the business woman's daily office grind! This bag will make you look your professional, classic and fashionable best–and so effortlessly.

Features:
-1 large, lined pocket to safely store your laptop (up to 15 inches in size);
-1 secondary pocket for your notepad or notebook;
-2 extendable pockets;
-1 zippered pocket to safely store your business or ID cards;
-2 keychains for quick and safe access to your keys;
-1 pocket for a phone;
-2 side pockets;
-1 secret pocket in the front of the bag;
For a total of 9 storage compartments.

Ever heard of PU vegan leather? Thanks to its durability and easy maintenance, it's the material Lambert use for this fashion backpack. PU vegan leather makes it possible to design quality accessories without using any animal products.

Size: 16" x 12" x 4"1/4 / 40 x 30 x 11cm
About the brand
By founding Lambert, Mélissa Lambert wanted to reinvent the fashion of the backpack while privileging the responsible innovation in the respect of animal ethics. She is convinced that it is possible to combine comfort with elegance. In collaboration with a talented designer, a range of vegan leather backpacks was created in Montreal. This company offers bags that allow you to move more lightly and comfortably with style.
FREE IN-STORE PICK UP
Free in-store pick up available in all Clement stores. Orders will be delivered in-store within 3 to 10 business days. Please wait until you received an email notification indicating that your order is available for pick up before going in-store.
Orders will be kept in store for one month. After that delay, the order will be cancelled and refunded.
SHIPPING TO CANADA
Free shipping on orders of $100 or more. For all other orders, a $7 flat rate shipping charge applies. Orders are shipped by Canada Post. A shipping confirmation with tracking number will be provided once your order has shipped.
Standard Shipping*
2-7 business days*
Expedited Shipping*
1-4 business days*
*Standard shipping not available in some areas. If applicable, additional charges may apply.
*Additional charges may apply. Not available in some areas.
*Transit times are subject to change and are not guaranteed.
Please note that some items may be shipped via another carrier.
SHIPPING TO THE UNITED STATES
20$ flat rate shipping on orders shipped to the United States. Orders will be delivered by USPS. A shipping confirmation with a tracking number will be provided once your order has shipped. The recipient is responsible for all import taxes, duties and/or customs fees if applicable.