GRA-SC04501GP / 1071650
Nuna
Changer Sena Playard - Grey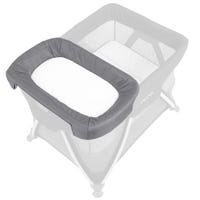 Changer Sena Playard - Grey
GRA-SC04501GP
1071650
$119.92
Step 1 - Verify the availability in store of this product Step 2 - Fill out the form to request for a 24-hour in-store free reservation
Reserve in store and product availability service is currently unavailable.
Thank you !
You will receive an answer by email within 3 business hours.
(After this time, check your junk mail or contact the selected store.)
Continue shopping
The Sena™ Changer by Nuna® is a great accessory for your Sena™ playard - an easy-to-clean changing station that locks into place atop your playard, providing a safe and comfortable changing area for baby. Made with certified Oeko-Tex® fabric, the changer features a wipeable panel for easy cleaning, or the quick remove soft goods can be hand washed for a more thorough cleaning. Sena™ Changer – providing easy care for your baby changing needs.
Features:
-For babies up to 24.2 lbs (11 kg), unable to climb out or unable to sit upright unassisted
-Compatible with the Sena Playard (sold separately). Not for use on the Sena Mini
-Made with certified Oeko-Tex® fabric
-Easy-to-clean wipeable panel
-Quick remove soft goods are hand washable
-Lock button gives parents peace of mind
About the brand
Discover the simplicity, comfort and convenience of choosing Nuna products such as strollers, playpens or baby car seats.
FREE IN-STORE PICK UP
Free in-store pick up available in all Clement stores. Orders will be delivered in-store within 3 to 10 business days. Please wait until you received an email notification indicating that your order is available for pick up before going in-store.
Orders will be kept in store for one month. After that delay, the order will be cancelled and refunded.
SHIPPING TO CANADA
Free shipping on orders of $100 or more. For all other orders, a $7 flat rate shipping charge applies. Orders are shipped by Canada Post. A shipping confirmation with tracking number will be provided once your order has shipped.
Standard Shipping*
2-7 business days*
Expedited Shipping*
1-4 business days*
*Standard shipping not available in some areas. If applicable, additional charges may apply.
*Additional charges may apply. Not available in some areas.
*Transit times are subject to change and are not guaranteed.
Please note that some items may be shipped via another carrier.
SHIPPING TO THE UNITED STATES
20$ flat rate shipping on orders shipped to the United States. Orders will be delivered by USPS. A shipping confirmation with a tracking number will be provided once your order has shipped. The recipient is responsible for all import taxes, duties and/or customs fees if applicable.