LAK-LK50008 / 1078430
Larktale
Caravan™ Stroller / Wagon Chassis - Grey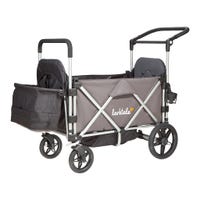 Caravan™ Stroller / Wagon Chassis - Grey
LAK-LK50008
1078430
$639.99
Step 1 - Verify the availability in store of this product Step 2
To ensure the availability of the product, make a 24h reservation in store or directly contact the store.
You will receive an answer by email within 3 business hours.
Thank you !
You will receive an answer by email within 3 business hours.
(After this time, check your junk mail or contact the selected store.)
Continue shopping
The adventure awaits! Designed for growing kids with places to go, the Larktale caravan™ has interior seating roomy enough for two passengers. The easy maneuverability puts even more activities in play such as sporting events, outdoor festivals, camping, and the beach. And when your little one is tuckered out, only the caravan™ offers unique patent pending reclining seats. You can also flip one seat forward into a flat base position to haul even more essentials on your outing or let your little ones stretch their legs.
Features:
-Suitable for children 6 months up to 50 lbs per seat
-Comfortable padded seats individually recline for each passenger's preference and comfort
-Drop-down footwell allows children a more natural seating position while the easy-clean footwell zipper quickly releases dirt and debris from the footwell area
-Convenient flip-down seat provides a supportive flat base inside the stroller/wagon, perfect for hauling cargo or provide a comfy flat seating position for your little one to stretch out.
-Folds in seconds using just one hand, belt lock to keep caravan folded during transportation or storage
-Adjustable handlebar with leatherette details suits users of all heights
-Accessible front pull bar so the stroller/wagon to be pushed or pulled with ease
-Large puncture-proof all-terrain tires with lockable swivel front wheels
-All-wheel suspension system soaks up road bumps
-Large storage basket with a separate vented zippered compartment holds all your outdoor essentials. Folds away when not in use.
-Rear storage organizer with zippered pockets for personal items
-Interior pocket organizer keeps passengers' toys, books, drinks and more, close at hand
-Adjustable 5-point safety harness with comfortable shoulder pads
-Flip-flop friendly brake
-Cup holder included
Assembled Dimensions: L: 61.0 x W: 25.2 x H: 41.7 inches Folded Dimensions: L: 25.2 x W: 13.6 x H: 33.2 inches Weight: 33 lbs
Range: 6 Months to 50 lbs per seat

*Accessories sold separately
About the brand
Larktale was created by parents who have experienced the joy of bringing up children. Larktale purpose is to empower parents around the world to seamlessly fit the magic of baby into their independent lives. With modern parenthood in mind, they have proudly developed some of the best baby strollers available and a wide range of accompanying stroller accessories, focusing on innovative products that look good, solve problems, and make it even easier to bring your baby along for any adventure.
FREE IN-STORE PICK UP
Free in-store pick up available in all Clement stores for orders over $30. A $5 handling fee applies for orders of less than $30. Orders will be delivered in-store within 3 to 10 business days. Please wait until you received an email notification indicating that your order is available for pick up before going in-store.
Orders will be kept in store for one month. After that delay, the order will be cancelled and refunded.
SHIPPING TO CANADA
Free shipping on orders of $100 or more. For all other orders, a $7 flat rate shipping charge applies. Orders are shipped by Canada Post. A shipping confirmation with tracking number will be provided once your order has shipped.
Standard Shipping*
2-7 business days*
Expedited Shipping*
1-4 business days*
*Standard shipping not available in some areas. If applicable, additional charges may apply.
*Additional charges may apply. Not available in some areas.
*Transit times are subject to change and are not guaranteed.
Please note that some items may be shipped via another carrier.
SHIPPING TO THE UNITED STATES
20$ flat rate shipping on orders shipped to the United States. Orders will be delivered by USPS. A shipping confirmation with a tracking number will be provided once your order has shipped. The recipient is responsible for all import taxes, duties and/or customs fees if applicable.
Exceptions: Furniture cannot be delivered outside of Canada.