PEG-CA35TX53DX53 / 1070625
Peg Perego
Car Seat Shuttle Plus 120 Univ
- Ships within 2 weeks. Remote area shipping are subject to approval.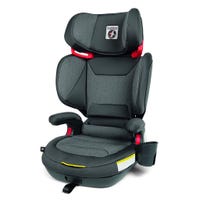 Car Seat Shuttle Plus 120 Univ
PEG-CA35TX53DX53
1070625
$349.99
Step 1 - Verify the availability in store of this product Step 2 - Fill out the form to request for a 24-hour in-store free reservation
To ensure the availability of the product, make a 24h reservation in store or directly contact the store.
You will receive an answer by email within 3 business hours.
Thank you !
You will receive an answer by email within 3 business hours.
(After this time, check your junk mail or contact the selected store.)
Continue shopping
Protect your child all around with the 2-in-1 Viaggio Shuttle Plus! Its flexibility to adjust all around allows it to fit your child perfectly. Transforming from an all-around adjustable booster to a backless booster, the Viaggio Shuttle Plus will grow with your child!
Features:
-Adjust the headrest independently of the backrest to five height positions
-Adjust the backrest and headrest together in three positions
-Adjust the side portection in three position expand the width as much as 4" / 10cm 
-Adjustable rigid latches allow for backrest recline 
-For children 40 - 120 lbs / 18.1 – 54.4 kg
-Rigid LATCH
-LATCH excursion lever
-Bottle holder included
-Transportation handle
-Removable folder
Size : 26 x 17,25 x 171/4'' / 66 x 44 x 44cm
Weight : 6,7kg / 14 lbs
Expiration: 12 years
Cannot shipped to the USA
For more information on how to choose the right car seat, click on the following link
https://saaq.gouv.qc.ca/en/road-safety/behaviours/child-safety-seats/
About the brand
Be charmed by the Italian company Peg Perego, which has offered for over 60 years products for babies and children of first quality, safe and of impeccable aesthetic. This company is always on the lookout for the latest market trends as well as your needs as parents. Its strollers, car seats, high chairs and table seats, diaper bags, stroller accessories and more are all designed to make your life easier on the go while bringing comfort and safety to your little ones.
FREE IN-STORE PICK UP
Free in-store pick up available in all Clement stores. Orders will be delivered in-store within 3 to 10 business days. Please wait until you received an email notification indicating that your order is available for pick up before going in-store.
Orders will be kept in store for one month. After that delay, the order will be cancelled and refunded.
SHIPPING TO CANADA
Free shipping on orders of $100 or more. For all other orders, a $7 flat rate shipping charge applies. Orders are shipped by Canada Post. A shipping confirmation with tracking number will be provided once your order has shipped.
Standard Shipping*
2-7 business days*
Expedited Shipping*
1-4 business days*
*Standard shipping not available in some areas. If applicable, additional charges may apply.
*Additional charges may apply. Not available in some areas.
*Transit times are subject to change and are not guaranteed.
Please note that some items may be shipped via another carrier.
SHIPPING TO THE UNITED STATES
20$ flat rate shipping on orders shipped to the United States. Orders will be delivered by USPS. A shipping confirmation with a tracking number will be provided once your order has shipped. The recipient is responsible for all import taxes, duties and/or customs fees if applicable.