COS-22446CBRL / 1071122
Safety 1st
Car Seat Complete Air 65LX - Bromley
Special Price
$199.99
Regular Price
$249.99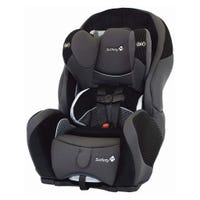 Car Seat Complete Air 65LX - Bromley
COS-22446CBRL
1071122
$199.99
Step 1 - Verify the availability in store of this product Step 2 - Fill out the form to request for a 24-hour in-store free reservation
Reserve in store and product availability service is currently unavailable.
Thank you !
You will receive an answer by email within 3 business hours.
(After this time, check your junk mail or contact the selected store.)
Continue shopping
Features:
-Convertible Car Seat with Air Protect Advanced Side Impact Protection
-Rear Facing 5-40 lbs, and 19-36" and Forward Facing 22-65 lbs 
-QuickFit™ Harness System adjusts harness height from the front in 1 easy step; no need to rethread the harness or uninstall the seat from the car
-5 position adjustable head rest
-3 buckle positions
-Removable lumbar pillows
-Anti-rebound bolsters
-One Click UAS mini connectors for easy installation
-Seat pad is hand washable
-Airplane ready
-Meets CMVSS 213 & 213.1
About the brand
Always prioritizing security, Safety 1st has a fitting name and offers a full range of child-resistant home security products and a variety of affordable quality items such as car seats, strollers, parks, table accessories, toddler furniture and more. Reliable and designed to make your family's life easier and safer, Safety 1st items are to be trusted.
FREE IN-STORE PICK UP
Free in-store pick up available in all Clement stores. Orders will be delivered in-store within 3 to 10 business days. Please wait until you received an email notification indicating that your order is available for pick up before going in-store.
Orders will be kept in store for one month. After that delay, the order will be cancelled and refunded.
SHIPPING TO CANADA
Free shipping on orders of $100 or more. For all other orders, a $7 flat rate shipping charge applies. Orders are shipped by Canada Post. A shipping confirmation with tracking number will be provided once your order has shipped.
Standard Shipping*
2-7 business days*
Expedited Shipping*
1-4 business days*
*Standard shipping not available in some areas. If applicable, additional charges may apply.
*Additional charges may apply. Not available in some areas.
*Transit times are subject to change and are not guaranteed.
Please note that some items may be shipped via another carrier.
SHIPPING TO THE UNITED STATES
20$ flat rate shipping on orders shipped to the United States. Orders will be delivered by USPS. A shipping confirmation with a tracking number will be provided once your order has shipped. The recipient is responsible for all import taxes, duties and/or customs fees if applicable.