CEK-OL12C2-GY / 1066332
Clek
Olli Booster Car Seat 40-120lb - Thunder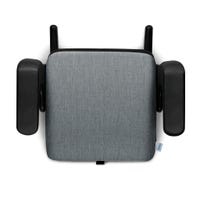 Olli Booster Car Seat 40-120lb - Thunder
CEK-OL12C2-GY
1066332
$139.99
Step 1 - Verify the availability in store of this product Step 2
To ensure the availability of the product, make a 24h reservation in store or directly contact the store.
You will receive an answer by email within 3 business hours.
Thank you !
You will receive an answer by email within 3 business hours.
(After this time, check your junk mail or contact the selected store.)
Continue shopping
Features :
-Rigid-UAS; Olli's rigid-UAS system makes proper installation effortless and provides greater stability to the booster seat in the event of a collision and hols it in place even when he is not busy.
-Better positions the seat belt on the child's hips to improve safety
-Confirms that latches are locked with an audible "click"
-Quick release system for easy removal
-Olli booster seat raises your child 10 cm/4 in. to improve in-vehicle shoulder belt fit
-No numb-bums; it's built like the seat in your car. The Comfort-cube construction includes an additional layer of padding that protects against numb-bum!
-Fabrics are GREENGUARD Select Certified and provide permanent protection against stains, moisture and odor-causing bacteria.
-Detachable and dishwasher-safe cup holder
-Light Weight; weighs 5,5lb / 2.5 kg for easy portability between vehicles, through the airport or walking through the city.
-Fabric on the underside protects your vehicle seats from scratches or snags.
-Meets all Federal Motor Vehicle Safety Standards and Canadian Motor Vehicle Safety Standards
Recommended child size: 40" to 57" / 101cm to 145cm
Recommended child weight: 40lb to 120lb / 18kg to 54kg
Expiration 9 years
About the brand
Clek is engineered to protect your child. Designed to make a statement. They make car seats for parents like you. Stylish. Comfortable. Convenient.
FREE IN-STORE PICK UP
Free in-store pick up available in all Clement stores for orders over $30. A $5 handling fee applies for orders of less than $30. Orders will be delivered in-store within 3 to 10 business days. Please wait until you received an email notification indicating that your order is available for pick up before going in-store.
Orders will be kept in store for one month. After that delay, the order will be cancelled and refunded.
SHIPPING TO CANADA
Free shipping on orders of $100 or more. For all other orders, a $7 flat rate shipping charge applies. Orders are shipped by Canada Post. A shipping confirmation with tracking number will be provided once your order has shipped.
Standard Shipping*
2-7 business days*
Expedited Shipping*
1-4 business days*
*Standard shipping not available in some areas. If applicable, additional charges may apply.
*Additional charges may apply. Not available in some areas.
*Transit times are subject to change and are not guaranteed.
Please note that some items may be shipped via another carrier.
SHIPPING TO THE UNITED STATES
20$ flat rate shipping on orders shipped to the United States. Orders will be delivered by USPS. A shipping confirmation with a tracking number will be provided once your order has shipped. The recipient is responsible for all import taxes, duties and/or customs fees if applicable.
Exceptions: Furniture cannot be delivered outside of Canada.