EG -900003031003 / 1069191
Dutailier
3 Drawers Chest - Natural/White
- Only delivery in store is available for this product.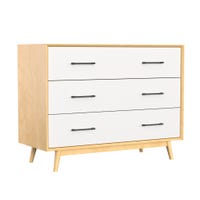 3 Drawers Chest - Natural/White
EG -900003031003
1069191
$1,039.97
Step 1 - Verify the availability in store of this product Step 2 - Fill out the form to request for a 24-hour in-store free reservation
To ensure the availability of the product, make a 24h reservation in store or directly contact the store.
You will receive an answer by email within 3 business hours.
Thank you !
You will receive an answer by email within 3 business hours.
(After this time, check your junk mail or contact the selected store.)
Continue shopping
Get all the storage space you need with the Lollipop 3-drawer dresser. Its large flat surface lets you keep baby's essentials close by.
Features : 
-Large drawers feature partial extenders with automatic stoppers that protect child's fingers
-German hardware guaranteed by original manufacturer
-Includes safety strap to securely attach furniture to the wall
-Drawer include adjustable and removable dividers for efficient organization and storage
-Entirely made out of wood from sustainable managed forest (FSC)
-Made in Canada by skilled craftsmen
-Possibility of one or two-tone wood finish
Size: 46" x 193/4" x 35" / 116.8cm x 50.2cm x 88.9cm
Box : 49" x 22" x 38" / 125cm x 56cm x 96.5cm
Weight : 160lb / 72.6kg
About the brand
Dutailier offers wooden rocking chairs, upholstered chairs, and youthful furnishings designed and manufactured in Canada. Dutailier has kept its promise of quality for nearly 40 years with the care taken in the choice of its raw materials.
This item is subject to some delivery restrictions.
FREE IN-STORE PICK UP
Free in-store pick up available in all Clément stores. Orders will be delivered in-store within 3 to 10 business days following the date of purchase. Please wait until you have received an email notification indicating that your order is available for pick up at the selected location before going in-store.
Orders will be kept at your selected location for one month after which the order will be cancelled and refunded if not picked-up by the customer.
SHIPPING TO CANADA
This item is not available for delivery to Canada.
SHIPPING TO THE UNITED STATES
This item is not available for delivery to the United States.