SKL-C5021-006-3 / 1059942
Mam Baby
Easy Start Anti-Colic Baby 5oz Bottle - Blue
Theme, pattern or color may differ.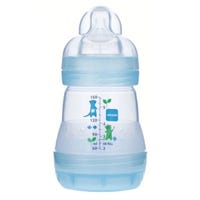 Easy Start Anti-Colic Baby 5oz Bottle - Blue
SKL-C5021-006-3
1059942
$9.92
Step 1 - Verify the availability in store of this product Step 2
In-store availability and reservation are not available for that product. Please add to cart, complete an online order and select ship to store to purchase this product.
Thank you !
You will receive an answer by email within 3 business hours.
(After this time, check your junk mail or contact the selected store.)
Continue shopping
MAM Anti-Colic Bottles have a SkinSoft™ textured nipple that is accepted by 94% of babies* and a patented vented base that regulates pressure ensuring babies do not get air in their tummies while feeding. The wide openings make it easy to clean, fill and assemble. The bottle self-sterilizes in 3 minutes in the microwave in 3 easy steps for easy cleaning. Includes 1 slow-flow nipple. *Market research 2009-2017 tested with 1,508 babies.

Features:
-Includes 5oz / 160ml bottle
-Reduces colic thanks to vented base
-Spill-proof lid, also working as a measuring cup
-Silky soft and patented nipple, feeling familiar
-Self-sterilising in three easy steps
-BPA-free
-Recommended age: from birth

*Pattern may vary
About the brand
Mam Baby designs products which allow smooth changes as your baby's needs evolve. Parents will appreciate the reliability of baby bottles, pacifiers, nipples, teething rings and various other innovative and functional products troughout baby growth.
FREE IN-STORE PICK UP
Free in-store pick up available in all Clement stores for orders over $30. A $5 handling fee applies for orders of less than $30. Orders will be delivered in-store within 3 to 10 business days. Please wait until you received an email notification indicating that your order is available for pick up before going in-store.
Orders will be kept in store for one month. After that delay, the order will be cancelled and refunded.
SHIPPING TO CANADA
Free shipping on orders of $100 or more. For all other orders, a $7 flat rate shipping charge applies. Orders are shipped by Canada Post. A shipping confirmation with tracking number will be provided once your order has shipped.
Standard Shipping*
2-7 business days*
Expedited Shipping*
1-4 business days*
*Standard shipping not available in some areas. If applicable, additional charges may apply.
*Additional charges may apply. Not available in some areas.
*Transit times are subject to change and are not guaranteed.
Please note that some items may be shipped via another carrier.
SHIPPING TO THE UNITED STATES
20$ flat rate shipping on orders shipped to the United States. Orders will be delivered by USPS. A shipping confirmation with a tracking number will be provided once your order has shipped. The recipient is responsible for all import taxes, duties and/or customs fees if applicable.
Exceptions: Furniture cannot be delivered outside of Canada.