JNJ-TBDINO / 1078428
Jack N' Jill
Biodegradable Toothbrush - Dino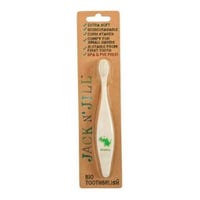 Biodegradable Toothbrush - Dino
JNJ-TBDINO
1078428
$11.95
Step 1 - Verify the availability in store of this product Step 2
In-store availability and reservation are not available for that product. Please add to cart, complete an online order and select ship to store to purchase this product.
Thank you !
You will receive an answer by email within 3 business hours.
(After this time, check your junk mail or contact the selected store.)
Continue shopping
Features:
-Made of soft nylon bristles for superior cleaning
-Ergonomic handle 100% corn starch (GMO free!)
-Ideal for small hands
-BPA and PVC free
-Biodegradable and compostable
-Rounded nylon bristles (SOFT) for superior cleaning
About the brand
Jack N' Jill products provide natural oral care for babies, toddlers and children. They were first made in Melbourne, Australia in 1949 and have been a family business for over 20 years. They continue to be made in Australia and are now available in over 30 countries. With a background in pharmacy, Jack N' Jill set out to formulate the safest products for their children and yours.
FREE IN-STORE PICK UP
Free in-store pick up available in all Clement stores for orders over $30. A $5 handling fee applies for orders of less than $30. Orders will be delivered in-store within 3 to 10 business days. Please wait until you received an email notification indicating that your order is available for pick up before going in-store.
Orders will be kept in store for one month. After that delay, the order will be cancelled and refunded.
SHIPPING TO CANADA
Free shipping on orders of $100 or more. For all other orders, a $7 flat rate shipping charge applies. Orders are shipped by Canada Post. A shipping confirmation with tracking number will be provided once your order has shipped.
Standard Shipping*
2-7 business days*
Expedited Shipping*
1-4 business days*
*Standard shipping not available in some areas. If applicable, additional charges may apply.
*Additional charges may apply. Not available in some areas.
*Transit times are subject to change and are not guaranteed.
Please note that some items may be shipped via another carrier.
SHIPPING TO THE UNITED STATES
20$ flat rate shipping on orders shipped to the United States. Orders will be delivered by USPS. A shipping confirmation with a tracking number will be provided once your order has shipped. The recipient is responsible for all import taxes, duties and/or customs fees if applicable.
Exceptions: Furniture cannot be delivered outside of Canada.